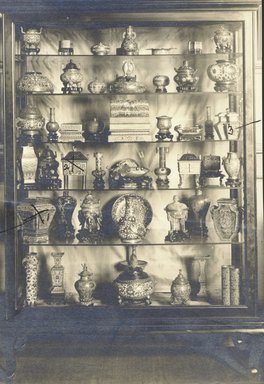 Location unknown, 1913
Image: "Location unknown, 1913", 1913. Bw photographic print. Brooklyn Museum, Goodyear. (Photo: Brooklyn Museum, S03i0062v01.jpg
Notes: No. 1 duplicate; No. 2 Japanese: not to go with others. No. 3 has carved teakwood stand. [Glass case with cloisonne objects (includes notes).]
Collection: Goodyear Archival Collection
Folder: Department of Fine Arts [3.2.013]: Avery Collection, cloisonne catalog.
Brooklyn Museum