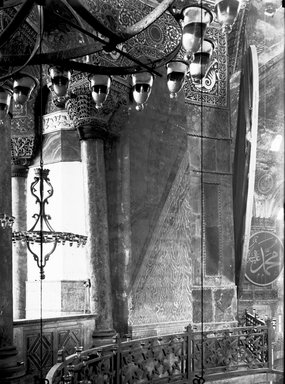 St. Sophia, Istanbul, Turkey, 1914
Image: "St. Sophia, Istanbul, Turkey, 1914", 1914. Glass negative 5x7in, 5 x 7 in. Brooklyn Museum, Goodyear. (Photo: Brooklyn Museum, S03i1183n01.jpg
Notes: Series 1914. Constantinople, St. Sophia, N.W. gallery pier, widening refinement (No. 1). The upper part of #3. Photographed from the gallery. Big shield with caliphs name which obscures the widening from most points of view. (See shields in No. 1). Surveyor's disk on the plane of the plumb line, widening about 10 inches. This figures up to 16 inches, with no. 5, for entire height. Now note the trompe l'oeil. Column leaning off parallel to the sloping pier so that nobody notices the sloping pier. Column beyond it is perpendicular rear of the same pier. Goodyear number: 29.
Collection: Goodyear Archival Collection
Folder: Visual materials [6.1.009]: 1914 survey expedition photographs.
Brooklyn Museum