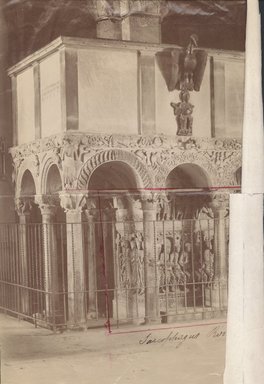 Location unknown, n.d.
Image: "Location unknown, n.d.". Bw photographic print 8x10in, 8 x 10 in. Brooklyn Museum, Goodyear. (Photo: Brooklyn Museum, S03i0052v01.jpg
Notes: 9107. Milano. Basilica di S. Ambrogio. Ambone e sarcofago cristiano. del VI secolo. Edizioni Brogi. [Cast of Roman sarcophagus.]
Collection: Goodyear Archival Collection
Folder: Department of Fine Arts [3.1.016]: casts.
Brooklyn Museum