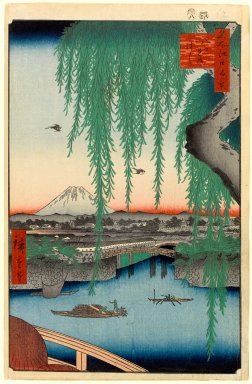 Yatsumi Bridge, No. 45 from One Hundred Famous Views of Edo
Artist:Utagawa Hiroshige (Ando)
Medium: Woodblock print
Geograhical Locations:
Dates:8th month of 1856
Dimensions: 14 3/16 x 9 3/16in. (36 x 23.3cm) Sheet: 14 3/16 x 9 3/16 in. (36 x 23.3 cm) Image: 13 3/8 x 8 3/4 in. (33.9 x 22.2 cm)
Collections:
Accession Number: 30.1478.45
Image: 30.1478.45_PS1.jpg,
Catalogue Description: A luxuriant willow frames the upper right of the placid scene, its elegant branches drooping low into the composition. Below, two men slowly pole a boat stacked with kindling while solitary fishermen, their boats tied to anchor poles, dip square nets into the shallow water. In the middle distance, Edo Castle stretches the width of the view, and Mount Fuji lies on the horizon with its customary majesty. A pair of swallows gracefully course in the summer sky. If we had actually been standing at the viewpoint Hiroshige has created, we would have experienced a bustle that the artist only alludes to in the two parasols moving across the bridge at the lower left. This is Ichikoku Bridge, one of the busiest in Edo, where the mouth of the Nihonbashi River joined the outer moat of the castle. So heavily traveled was the bridge that its southern approach served as the logical site for a stone post to which notices for lost children were pasted; the post which survived at the site today is dated 1857, one year after Hiroshige's view was published. Yatsumi Bridge, the alternate name of Ichikoku Bridge that is used in the title, literally means "Eight-View Bridge," but it more accurately translated 'Eight-Bridge View," since from this point fully eight different bridges were visible- including the one we are standing on. Two more may be seen in this view - Zenimake Bridge in the foreground and (barely) Dosan Bridge beyond. Out of sight are Tokiwa Bridge to the right , Gofuku and Kaji Bridges to the left, and Nihonbashi and Edobashi Bridges (see print 43 of the series) directly behind us. This scene is utterly transformed today. The moats to left and center have been filled in, and the curve of the Nohinbashi River lies in the shadow of an elevated highway. The purplish horizontal streak in the center of Hiroshige's view is now Marunouchi, Tokyo's central business district. It is hard to believe that it was actually possible to fish here, in the very center of the city.
Brooklyn Museum