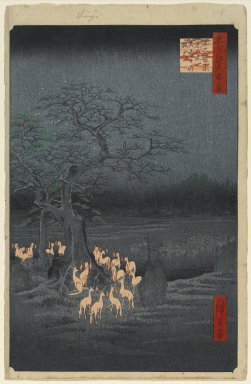 New Year's Eve Foxfires at the Changing Tree, Oji, No. 118 from One Hundred Famous Views of Edo
Artist:Utagawa Hiroshige (Ando)
Medium: Woodblock print
Geograhical Locations:
Dates:9th month of 1857
Dimensions: sheet: 14 3/16 x 9 1/4 in. (36.0 x 23.5 cm); image: 13 3/8 x 8 3/4 in. (34.0 x 22.2 cm)
Collections:
Exhibitions:
Curator's Choice: Hiroshige, One Hundred Famous Views of Edo
Accession Number: 30.1478.118
Image: 30.1478.118_PS1.jpg,
Catalogue Description: This unique print is the only one in the entire series that involves fantasy and is generally included among the "best three," together with prints 58 and 107. On the last day of the year, according to legend, all of the foxes if the eight Kanto provinces would gather at a particular tree near Oji Inari Shrine. They would change their dress before visiting the shine, where they would be given orders for the coming year. On the way they would breathe flames (kitsunebi) by which local farmers were able to predict the success of the crops of the coming year, either by the shadows cast by the flames or by their numbers. The word "foxfire" exists in English as a literal translation of Kitsunebi; both words are used to explain strange lights at night, such as the burning of swamp gases, and both were ascribed to the fox. In creating this image, Hiroshige relied on a composition in the Edo Meisho Zue (vol. V) which shows an old hackberry tree (enoki), backed by a pine. Haystacks are shown on one side and there are touches of green on the pine behind to the left, in overprinting on the haystacks and at the tips of the trees in the distance to the right. Red bokashi is used at the base of the yellow flames of the foxes in the foreground and there are some sixty-odd more foxes breathing fire in the distance. Although the Japanese considered foxes to have supernatural powers, they were a common sight in the city of Edo, especially in the Oji district. The "changing tree" stump has been preserved in a small shrine. A firebombing raid threatened to destroy the area in 1945, but the flames came no further than this point. After the war the residents constructed a shrine and planted a new tree, which is presently seen at Shozoku Inari Shrine.
Brooklyn Museum