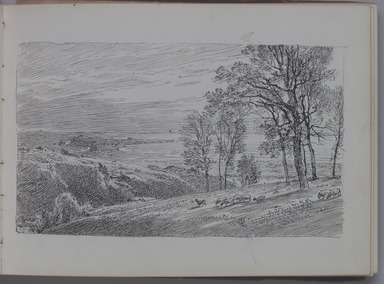 Sketchbook, Marines and Landscapes
Artist:William Trost Richards
Medium: Pencil or ink on paper
Dates:ca. 1890
Dimensions: 5 x 6 15/16 in. (12.7 x 17.6 cm)
Collections:
Museum Location: 5H8 aisle, top of cabinets, see move remarks]
Accession Number: 75.15.4
Image: 75.15.4.jpg,
Catalogue Description: Sketchbook containing 35 pages. 22 pages contain sketches, mostly coastal or water scenes, in black ink unless otherwise noted. Round manufacturer's sticker on inside front cover, lower right: "Frost & Adams / Artists' Materials, / 37 Cornhill, / Boston." p1 Blank p2 Waterside scene with two sailboats p3 Coastal scene on a beach p4 Rocky coastal scene p5 Figure walking along a path through rocky and grassy landscape, possibly a coastline in the background p6 View of the ocean p7 View of the ocean p8 Field with hay bale p9 Trees lining a riverbank with grassy fields on either side p10 Rocky coastal scene p11 Rocky coastal scene p12 Hillside with sheep and trees; a coast lin in the background p13 Coastal scene on a beach p14 Rocky coastal scene p15 View of the ocean p16 View of the ocean p17 Rocky coastal scene p18 View of the ocean p19 Rocky coastal scene p20 View of the ocean p21 Gray ink - view of the ocean with coastline in distance p22 Graphite - Rocky coastal scene p23 Graphite - Rocky coastal scene Remainder are blank pages Inscribed in graphite, artist's hand (?), inside back cover, upper right (mathematical calculations?): "24:6[2?] / 32 / 192 / 16 / 24208 8 / 202 / 1 / 16"