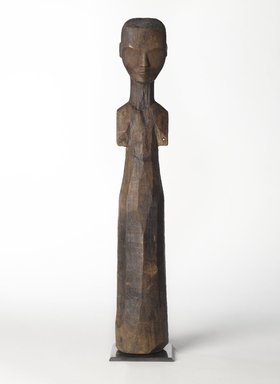 Funerary Figure
Medium: Wood, traces of textile and polychrome decoration
Geograhical Locations:
Dates:3rd-2nd century B.C.E.
Dimensions: 22 3/4 × 3 5/8 × 3 5/8 in. (57.8 × 9.2 × 9.2 cm)
Collections:
Museum Location: Asian Galleries, West, 2nd floor (China)
Exhibitions:
Accession Number: 1997.22
Image: 1997.22_front_PS9.jpg,
Catalogue Description: Chu culture, Yutaishan, Jiangling. Stylized figure of a man carved from a single piece of wood, the bottom showing the approximate circumference of the original branch or trunk, the figure roughly formed as a cone tapering slightly without anatomical detail to the area of the chest. Chisel and/or knife marks are clearly visible on the lower part of the figure. The shoulders are schematically modeled, with the upper arms cut at an angle and drilled with one hole for attaching the arms, now missing, the proper left hole open, the proper right hole retaining a wood or bamboo pin. The relatively large head sits on an elongated neck, with the features schematically modeled in low, sharp relief, with a small mouth, triangular nose, sweeping curves for the eyebrows, and ears set high and back n the head. The hairline appears as a shallow cut across the forehead, with traces of black clearly visible on the top and sides of the head. A large folded or knotted piece of silk (?) fabric, stained black, approximately 7 inches from the base. Other small remnants of fabric and/or cords (?) are visible in various places of the lower part of the figure, possibly remnants of the costume placed on the figure at the time of burial. Fragments of fibers remain in the cut at the hairline and fibers representing the hair remain adhered to the head. Condition: The figure is generally intact. It is currently mounted on a flat metal display base with a beveled edge and a metal (?) dowel that extends an unknown distance up into the bottom portion of the figure. There is one area of fill on the chest, and another possible fill on the top of the head. The figure has been conserved by the Nucleart Regional Conservation Studio, Grenoble France and materials provided by the donor detail this conservation procedure. These include 1) report entitled "Annexe 3: Collection du Musee Guimet" (in French bound with reprints of two articles by Jean-Paul Deroches: "Les Sculptures du royaume de Chu," "revue du Louvre," 1-1997 (Fevrier): 13-15; and "La Memoire du Chu," "Connaissance des Arts," 537, Mars 1997: 40-47); and 2) a report entitled "Traitement," in French, detailing the treatment of wooden objects soaked with water. The date and source for the figure is detailed in the description of another figure from the same group, offered for sale by Jacques Barrere, with no date or page number on the catalogue, noting that one figure from the group has been carbon-14 dated to the period.
Brooklyn Museum