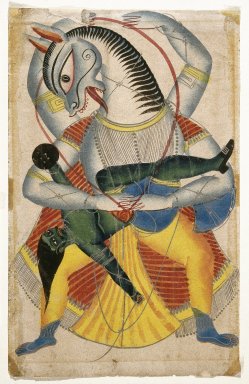 Narasimha Avatara
Medium: Watercolor, ink and silver on paper
Geograhical Locations:
Kolkata (Calcutta), Kalighat, West Bengal, India
Dates:ca. 1910
Dimensions: 17 1/4 x 11 in. (43.8 x 27.9 cm)
Collections:
Accession Number: 1997.145
Image: 1997.145_IMLS_SL2.jpg,
Catalogue Description: Narasimha (Nara-man and Simha-lion), the incarnation of Vishnu, the Protector, was a popular character from Indian mythology. Narasimha is nearly always shown with a raised mane of a male lion and the stripes of a tiger. In this painting from Kalighat, a temple (ghat) site in Calcutta, eastern India, dedicated to the worship of the goddess Kali, Narasimha is shown as a composite mythical beast, rather than a lion. His tongue is shown hanging out like a makara (a mythical beast from Hindu mythology). His body is painted deep blue to indicate his associations with Vishnu, the Dark One. He is four-armed and lion-headed, with a groomed mane. His ears and tongue are painted bright red and orange. The image is well composed onto a stage-like setting. His semi-seated legs bent is a pose popular in Indian dance. Two of his hands are joined together on the demon's hand to depict the disembowelment of the demon. The other two are raised above his head to form a pose from Indian dance. Narasimha's lower garment (dhoti) is brightly painted in yellow and red, fanned skirt in the middle. The costume and the stage-like setting are influenced by local folk the dance performances. (Jyotindra Jain, lecture for Asian Art Council, April 1997) The demon Hiranyakashaipu is painted green and he is holding a shield and a sword in each hand. The sword is painted in a single silver line. His lower torso is clothed in a blue dhoti and he is wearing western style shoes. His eyes are wide, although his expression is calm and stylized. He has a long mustache, which was fashionable among the nobility in this period. His hair hangs down in a long black mane. Although Narasimha's hands are only joined together across his mid-torso the blood demon's disemboweled torso is depicted in bright red and orange. In the Narasimha legend, the demon Hiranyakashaipu had a boon from Brahma (the creator) that not be killed by any human being, or animal, or god; that he could not be killed during the day or that he could not be killed either on the earth or in the sky; that he could not be killed by a weapon; and could not be killed either outside a house or inside one. With such a boon, he began to consider him immortal, and to oppress and ill-treat pious and religious people. He tortured his son Prahlad because he persisted in worshipping Vishnu. To save his devotee, Prahlad, Vishnu incarnated himself as a man with a face and head of a lion and the body of a man. He annihilated Hiranyakashipu at dusk over the threshold of his house by tearing open his stomach with his claws, thus avoiding the terms of Brahma boon. (Amy G. Poster, notes from a lecture at the Hood Museum of Art for Realms of Heroism). A striking quality of Kalighat painting is the use of long continuous lines as is seen in the eyes, jewelry and outlines of the clothing. There is a boldness and vigor in the brushstroke. The figures shaded to highlight the contours of the forms but images are not well modeled and appear rather colors of red, yellow and blue are bright and vibrant. The satirical style, typical of the Kalighat School is evident in the use of a classic theme from Hindu mythology to make a seemingly political statement. (See Archer, 1971). The painting touch issues of the growing westernization of Calcutta society, a concern during this period. The western style of the demon's feet may also reflect the animosity toward the British, by equating them with the demon (Archer, 1971). Condition: The colors are in very good conditions and extremely vibrant. There is a stain about an inch from the wedges, which indicates that it may be framed. There is a slight flaking of paper in the corners. There is some bleaching of the red pigment on the back.
Brooklyn Museum