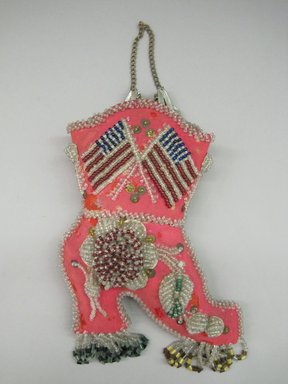 Boot Whimsy
Artist:Iroquois
Medium: Cloth, beads, sequins, metal clasps, chain
Geograhical Locations:
Ontario, Canada
New York, United States
Dates:ca. 1900
Dimensions: excluding beaded drops along bottom of heel and toe: 10 × 6 1/2 × 2 1/2 in. (25.4 × 16.5 × 6.4 cm)
Collections:
Exhibitions:
Jeffrey Gibson: When Fire Is Applied to a Stone It Cracks
Accession Number: 2016.11.22
Image: CUR.TL2016.18.22.jpg,
Catalogue Description: High heeled boot-shaped whimsy of pink cloth decorated with beaded designs of two American flags and raised flowers on the ankle and a large flower and leaves on the foot. Bead colors include clear, red, blue, green, gold, and brown. The entire piece is edged with clear beads and the heel and toe have a looped fringe of clear, green, gold and brown beads. Metallic sequins provide additional ornamentation. A short, chain-link strap is attached to the top with two metal clasps in the shape of decorative V's. "Whimsy" is what these items are called because they serve no practical purpose but have fun shapes and are highly artistic. Many whimsies were created as art objects to be sold to non-Native customers who used them as symbols of status. Owners would exhibit such items in their guest parlors to stimulate conversations about where they might have traveled and who they met during their experiences. American flag motifs were extremely popular not only for items sold to non-Natives, but also for Native American-owned objects. The flag motif was used for multiple reasons: 1) There was a major Centennial celebration around 1900 and fervor for flags so the motifs appealed to non-Native aesthetic tastes. 2) By 1918, people were starting to honor veterans from World War I as well as nostalgia for Civil War veterans in the North. Many veterans were Native as well as non-Native. 3) Native people used other flag motifs on clothing and horse gear to symbolize their identity and warrior status, and this idea translated over to the American flag. By co-opting this image, Native people were subtly implying that they had power too. 4) Native people recognized that flags also symbolized courage and honor, attributes that they ascribed to themselves.
Brooklyn Museum