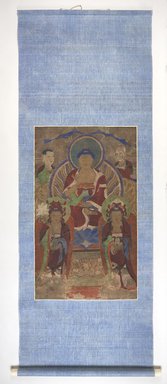 Amita Buddha Preaching
Artist:Korean
Medium: Hanging scroll: color on cloth
Dates:early 19th century
Dimensions: Overall: 86 1/2 × 35 1/2 in. (219.7 × 90.2 cm) image: 42 1/8 × 24 15/16 in. (107 × 63.3 cm)
Collections:
Accession Number: 2017.29.42
Image: 2017.29.42_PS11.jpg,
Catalogue Description: Vertical painting depicting a seated, enthroned Buddha making a teaching gesture, flanked by two bodhisattvas below and two arhats above. The throne is surrounded by rainbow emanations, flames, and golden clouds. The red robe of the Buddha, combined with his mudras (hand gestures: the upper hand teaching and the lower hand in meditation stance) indicates that this is a representation of Amita Buddha (Sanskrit Amitabha) preaching, presumably in the Western Paradise. The Bodhisattva on the viewer's left appears to be Gwaneum (Sanskrit Avalokiteshvara) because of the lotus. The Bodhisattva on the viewer's right is usually understood to be Dae Seiji (Sanskrit Mahasthamaprapta) but this figure does not have obvious identifying features. The younger figure at the top left is the Arhat Ananda, while the older figure at the top right is the Arhat Mahakasyapa. The painting is in a plain blue mount.
Brooklyn Museum