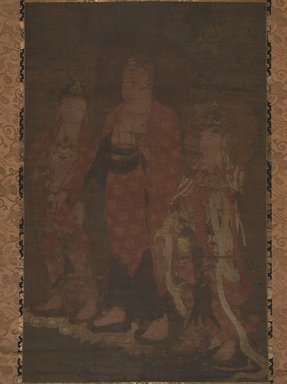 Amit'a Triad
Medium: Ink, color and gold on silk
Geograhical Locations:
Dates:14th century
Dimensions: 51 1/4 x 32 1/4in. (130.2 x 81.9cm) With mounting: 96 1/16 x 40 3/16 in. (244 x 102 cm)
Collections:
Accession Number: 61.204.30
Image: 61.204.30_overall_PS9.jpg,
Catalogue Description: This impressive image, considered one of the premier Goryeo paintings in the United States, depicts the Buddha Amit'a (Sanskrit: Amitabha), accompanied by two bodhisattvas: Kwan'um (Sanskrit: Avalokiteshvara) on the right and Seishi (Sanskrit: Mahasthamaprapta) on the left. Amit'a, the ruler of the Western Paradise, is the main icon of the Pure Land Sect of Buddhism, an extremely popular cult in Korea during the Goryeo dynasty. The position of Amit'a and the two bodhisattvas, standing diagonally on a lotus flower, suggests that they are on their way to this world to welcome their followers. Considering that there are several Goryeo examples of this painting with similar composition and scale, it is highly possible that a model for this type of painting existed earlier. In other images, Amit'a is seated on a throne flanked by two, four, or eight bodhisattvas. The scroll is painted on closely woven silk, now dark brown in color. The Amit'a stands, wearing brown and red robes, touched with gold medallions, at center, with each foot on lotus pods. He is nimbate, and his left hand is raised in the abhaya mudra and his right is held in varada mudra. The figure to his left, the Bodhisattva Avalokiteshvara, also stands on lotus pedestals, wears bright brocade garments with jewels, and holds a long stem of a lotus. the figure to the right of Amit'a, is also elaborately dressed with long sashes and carries a willow branch in his left hand and a vase in his right hand. The two attendant bodhisattvas are nimbate. The ground is a dark brown. Some of the pigments have darkened and the drapery lines appear to have been redrawn. Arrived with its own box, with box inscription. Produced with a dazzling technical virtuosity, Goryeo (918-1392) Buddhist paintings are renowned for their magnificent quality. Colors in dark tones, applied gold pigment and meticulously expressed details characterize works of this period. Only about 100 Goryeo Buddhist paintings survive worldwide, with fewer than ten paintings housed in Korea. Over seventy percent of these works are in Japanese collections, most of them having arrived in Japan from the 13th through 16th centuries, and now owned by temples. This Amitabha Buddha Triad depicts standing Amitabha Buddha flanked by two bodhisattvas, Avalokitesvara and Mahastamaprapta. Goryeo paintings of Amitabha welcoming souls reborn in his paradise typically depict the Buddha riding on clouds, descending to the dying creature in this world. In this particular painting, however, there is no cloud under his feet. Here Amitabha and Avalokitesvara are drawn in profile, whereas Mahasthamaprapta's face is drawn in full. The principal Buddha displays a symbolic hand gesture, forming circles with the thumb and middle forefinger of each hand, although the left hand is raised up to the chest while the right is lowered down. His head features a distinctive "tri-peak" shape combined with a crown (usnisa) and "topknot jewel." There is a Buddhist swastika drawn in gold on the chest. A part of the brown ground of the painting has peeled off and reveals the cloth underneath, but the red is quite vivid against the green, which has been much defaced by time. The gold lines drawn over the pastel tones of pink, blue, brown, and white, among others, have kept much of their original luster. The arrangement, posture, clothing and symbolic objects of the figures, including the long floral necklace, have lead art historians to believe that the painting is based on the same model used for the Amitabha Buddha Triad paintings collected by Senoku Hakkokan, Hodoji, and an individual collector in Japan. In this particular work, part of the peeled painting surface shows vividly the elegant ink lines hidden underneath. The facial expressions exhibiting the mysteriously serene inner world, the tall but nicely voluminous body, luxuriously beaded ornaments, and the distinctive pastel-tone coloring together create an exalted atmosphere that makes Goryeo Buddhist paintings great works of art. There is a postscript, "Written by Zhang Sigong" inside the lid of the wooden box. Experts believe that it was written at a later date. From "Korean Art Collection in the Brooklyn Museum" catalogue.
Brooklyn Museum