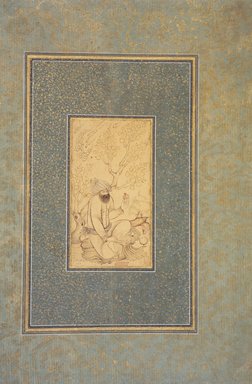 Man Holding a Pomegranate
Medium: Ink, watercolor, and gold on paper
Geograhical Locations:
Dates:AH 1028 / 1618 C.E.
Dimensions: 12 5/8 x 8 1/4in. (32.1 x 21cm)
Collections:
Arts of the Islamic World
Accession Number: 86.227.163
Image: 86.227.163.jpg,
Catalogue Description: Card Catalogue: This drawing consists of the most popular formula in the single-male figure category: the isolated image of a middle-aged man seated in a contemplative mood in an outdoor setting. (Swietochowskhi, Cat. no. 30). The formula includes the offering of a fruit, a cup, a book, or other objects. Here the bearded man is holding a pomagranate in his left hand. His right hand rests on the ankle of his left leg. He sits on what appears to be a large scarf or cloak and wears a turban on his head. Next to him is a waterpipe, to his left is a rock projection from which a bush extends. Behind him and to his left is a tree, which stretches upwards to the top right corner of the drawing. The tree is flowering with yellow leaves. I nthe topoe left corner are swirling Chinese type clouds. The lsight color in the dreawing is a reddish pink: in part of the man's robe, around the rocks and base of the tree; the pomegranate; and what is either a book or a letter at the bottom of the drawing near the folded legs of the seated figure. His turban is painted white, the sash around his waist is blue and the cloak on which he sits is yellow like the leaves on the tree. The drawing is framed with a border of gold and set onto a gold specked blue paper. The blue paper is framed with gold lines which is set on a lighter blue paper with a gold leaf design. It is possible that the drawing belonged to an album. The drawing itself might have been cut down and it seems to have been varnished. There is a signature and date in the lower left corner, signed "Reza Abbasi" and dated 1028 A.H. / 1618 C.E.
Brooklyn Museum