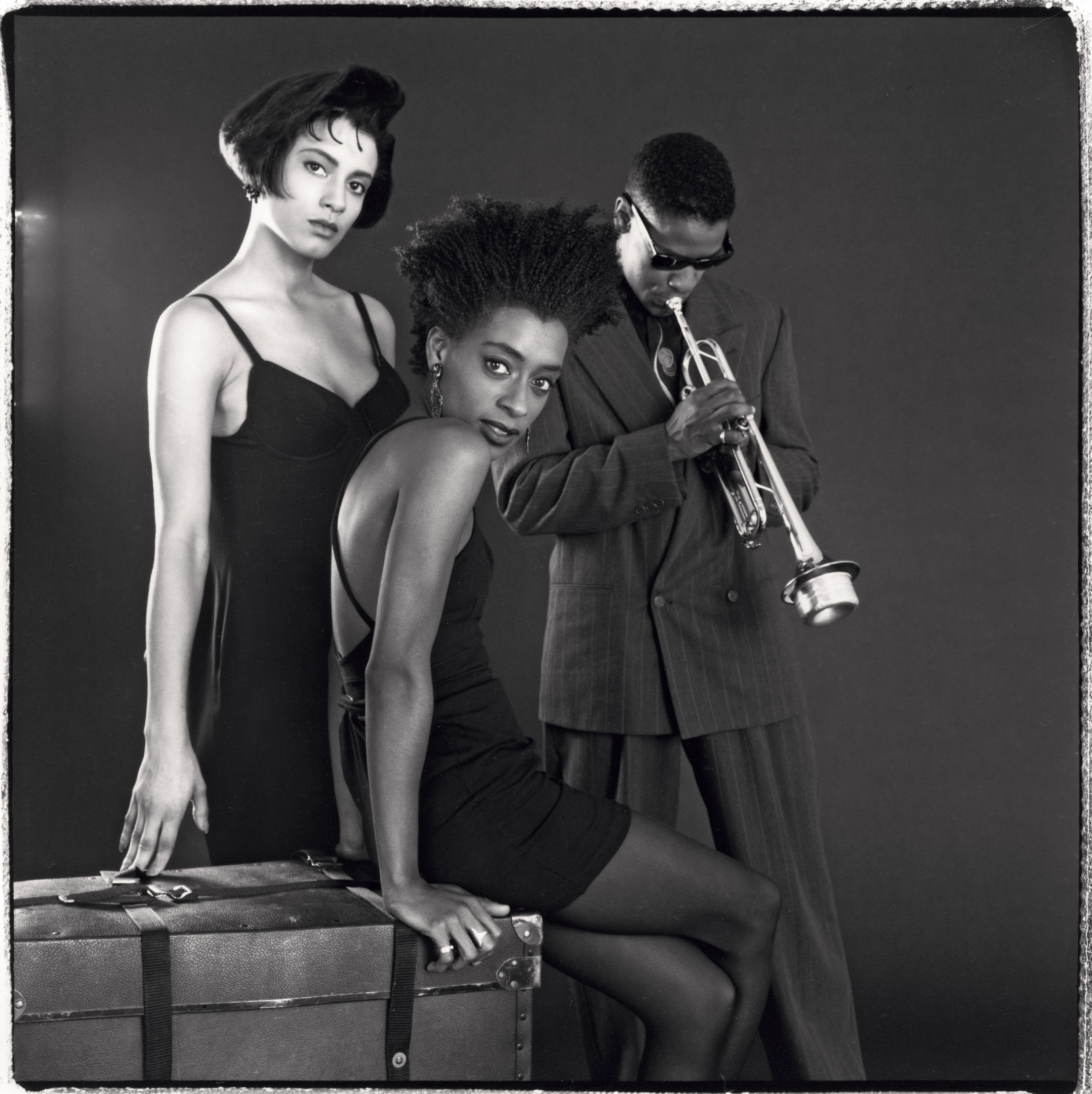 The Jazz Legends Who Shaped Spike Lee's Musical World
From Terence Blanchard to John Coltrane, Billie Holiday, and other iconic artists.
When you watch a Spike Lee joint, there's always a chance you'll find yourself dancing in your seat. As revealed in Spike Lee: Creative Sources, music is integral to Lee's filmography, from the choreographed interludes that disrupt tense social critique to the overtures that punctuate momentous plot points.
It should be no surprise, then, that the director is as deliberate about his scores as he is his scripts and storyboards, drawing from his vast, eclectic musical taste to determine precisely which songs meet the needs of each narrative. Among the genres that feature most frequently in his movies, jazz has remained a constant, familiar presence. In the companion book to his 1990 film Mo' Better Blues, an early-career ode to jazz, Lee emphasizes the genre's importance in his movies and his life: "I always knew I would do a movie about the music. When I say the music, I'm talking about jazz, the music I grew up with. Jazz isn't the only type of music that I listen to, but it's the music I feel closest to."
"Close" perfectly describes Lee's proximity to both jazz itself and some of its most lauded practitioners, whose images and instruments surround him in his home and places of work. This list highlights just a few of those artists—encompassing family members, collaborators, and influences—who have had an unquestionable impact on Lee and his filmmaking.
Bill Lee (Snow Hill, Alabama, 1928–2023, Brooklyn, New York)
There is a scene in Spike Lee's debut feature film, She's Gotta Have It (1986), in which protagonist Nola Darling reminisces about the music that filled her childhood home. She recalls that her dad, Sonny—portrayed by Lee's own father, Bill—would play the piano "day and night, night and day." Viewers meet Sonny in the prior scene where, true to form, he is playing the piano. He says it's a song he wrote for his daughter, a moment that nods to the fourth wall, as the elder Lee composed the scores for his son's first several films. Bill was, by that time, an accomplished jazz bassist and composer, and he had performed alongside luminaries including Duke Ellington and Aretha Franklin.
The Lee household was thus much like the Darling family's: pulsing with syncopated rhythms and improvised melodies day and night, night and day. Growing up in an environment that so spiritedly celebrated jazz, a genre whose roots are inseparable from Black American history and culture, decisively sparked Spike Lee's enduring appreciation for the music and the multitudes it represents. It all started at the beginning; in the director's own words to the New York Times in 1990: "Everything I know about jazz I got from my father."
Billie Holiday (Philadelphia, Pennsylvania, 1915–1959, New York, New York)
In Lee's epic film Malcolm X (1992), the titular character, prior to his transition from Malcolm Little to Malcolm X, visits a Harlem nightclub where Billie Holiday is performing. In the scene, Holiday glimmers on stage, flanked by a jazz quartet as she croons "I Cover the Waterfront." Her soft yet resonant voice accompanies the entire scene, which becomes increasingly tense, culminating in an attempt on Little's life. He asks his attackers to "let Billie finish first."
By the time this scene is set, in the mid-1940s, Holiday was already renowned for her distinctive, enchanting voice. Widespread recognition of her music had skyrocketed following the 1939 release of "Strange Fruit," which became an iconic early protest song of the civil rights movement. Though Holiday would become a prolific concert performer, her main source of income for much of the 1940s would remain intimate club performances, such as the one depicted in Lee's film. Holiday spoke of the disparity between her fame and her means in her 1956 autobiography Lady Sings the Blues, stating, "I needed the prestige and publicity all right, but you can't pay rent with it." Lee explored the topic of rampant financial exploitation in the music industry in Mo' Better Blues.
Terence Blanchard (born New Orleans, Louisiana, 1962)
Terence Blanchard's collaboration with Spike Lee extends over three decades. Blanchard played trumpet for the soundtracks of School Daze (1988), Do the Right Thing (1989), and Mo' Better Blues before Lee invited him to take a more central role in score composition. The legendary musician has since developed the soundtracks for the vast majority of Lee's filmography, from Jungle Fever (1991) to BlacKkKlansman (2018) and Da 5 Bloods (2020) (with the latter two receiving Oscar nods for Best Original Score). Lee has described their ongoing relationship as "a match made in heaven." Blanchard also appears in Lee's multipart documentary on Hurricane Katrina, When the Levees Broke (2006), accompanying his mother, Wilhelmina, on a visit to her flooded New Orleans home.
In addition to the seventeen projects Blanchard has scored for Lee, he has composed and performed on dozens of film soundtracks and has been credited for a resurgence of jazz in film. Still, as Blanchard himself told Downbeat magazine in 1994, "Writing for film is fun, but nothing can beat being a jazz musician, playing a club, playing a concert." To that end, he has maintained an active discography while also composing independent projects, including Fire Shut Up in My Bones, the first work by a Black American composer to be staged at New York's Metropolitan Opera.
Branford Marsalis (born Breaux Bridge, Louisiana, 1960)
For about thirty seconds before the explosive intro credits to Do the Right Thing begin, a saxophone plays a soulful cover of the anthem "Lift Every Voice and Sing." Performed by Branford Marsalis, this music is as much a signal of the film's content as "Fight the Power," the more-often-discussed Public Enemy song that follows. This was not the first time Marsalis had worked with Lee: the filmmaker had directed the music video for the title track of the Branford Marsalis Quartet's 1986 debut album, Royal Garden Blues. Marsalis had also played a role in School Daze and later collaborated with Terence Blanchard on the soundtrack for Mo' Better Blues.
Marsalis is best known for his solo work, as well as leading the Branford Marsalis Quartet and cofounding Buckshot LeFonque, a cross-genre collaboration that fused jazz with elements of hip-hop, pop, R&B, and rock. He was also the director of the Tonight Show Band during the first few years of Jay Leno's tenure. Much as it was to Lee, jazz was central to Marsalis's childhood: both his mother and father were jazz musicians (a singer and pianist, respectively), and his brothers Jason, Delfeayo, and Wynton—who appears and sings in When the Levees Broke—are also in the family business. Collectively, they are known as the "First Family of Jazz."
John Coltrane (Hamlet, North Carolina, 1926–1967, Huntington, New York)
Lee's film Mo' Better Blues is an ode to jazz, but on many levels it's also specifically a tribute to John Coltrane. That much is evident in the movie's original title, Love Supreme, which Lee drew from Coltrane's acclaimed 1965 album. As the director is quoted in the companion book, "It's a very spiritual work and I used it as inspiration for the film. The love in [the album] A Love Supreme goes beyond romantic love. It's love for God and the human community." The title was ultimately changed at the request of Coltrane's widow, Alice, due to the film's use of profanity, though Coltrane's music accompanies the climactic montage.
While A Love Supreme is Coltrane's most-praised album—and arguably one of the most famed records in jazz history—he produced it only two years before his passing, toward the end of his storied two-decade-long career as a saxophonist and composer. He recorded widely with a roster of jazz giants that includes Miles Davis and Thelonious Monk, and his works were groundbreaking in the development of modal and free jazz. Coltrane's composition "Alabama" is thought to have been written in response to the 16th Street Baptist Church bombing; Lee thus chose the song for the soundtrack of his documentary about the incident, 4 Little Girls (1997).
Ella Fitzgerald (Newport News, Virginia, 1917–1996, Beverly Hills, California)
This list would be unforgivably incomplete without the Queen of Jazz. Like several other artists included here, Ella Fitzgerald is named in the memorable "We Love Roll Call" scene in Do the Right Thing. During a nearly two-minute clip of the film's characters wilting in the relentless summer heat, the radio DJ Mister Señor Love Daddy runs through a list of preeminent Black musicians who he thanks for "makin' our lives just a little brighter." Fitzgerald's inclusion is wholly unsurprising, given Lee's continued belief that she's the "G.O.A.T."
He's not alone in that sentiment; "greatest" is one of innumerable superlatives that have been used to describe Fitzgerald's incomparable vocals and improvisational mastery. Her talent as the First Lady of Song was so widely recognized during her lifetime that she could leverage her reputation to further her impassioned civil rights activism. Although Fitzgerald herself was subjected to discrimination throughout her career, her steadfast commitment to equity and justice broke through racial barriers that would have seemed insurmountable in a segregated United States. Her effort generated opportunities—and hope—for the generations of Black creatives who followed.
Mahalia Jackson (New Orleans, Louisiana, 1911–1972, Evergreen Park, Illinois)
Mahalia Jackson notably did not think of herself as a jazz musician. Yet others certainly did: as detailed in Laurraine Goreau's 1975 biography Just Mahalia, Baby, a pastor once accused Jackson of blasphemy for perceived jazz elements in her singing, and her music found an audience among jazz enthusiasts across racial lines and international borders. Jackson nonetheless rejected the pull of secular music and replied to suggestions that gospel music owed a debt to jazz with a quip: "Baby, don't you know the Devil stole the beat from the Lord?"
Setting debates over genre aside, Lee's regard for Jackson and her music is indisputable. He scored an emotionally heightened scene in Jungle Fever with her song "He Calmed the Ocean," and 4 Little Girls featured a clip of her performance at the 1963 March on Washington, after which she would prompt her close friend Martin Luther King Jr. to give his "I Have a Dream" speech. Lee's decision to write Jackson's name into the "We Love Roll Call" scene further affirms his belief that she is one of the all-time musical greats.
Research support provided by Aisha Akoshile and Edward Moreta Jr.
Indira A. Abiskaroon is the Curatorial Assistant of Modern and Contemporary Art at the Brooklyn Museum.