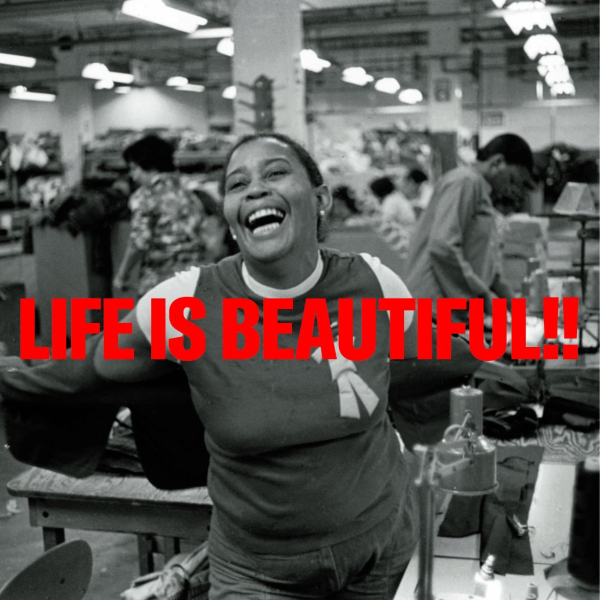 Carrie Mae Weems: RESIST COVID TAKE 6!
September 16–November 8, 2020
RESIST COVID TAKE 6!, a public art campaign by artist Carrie Mae Weems, brings awareness to the greater impact of the COVID-19 pandemic on Black, brown, and Indigenous communities, a result of economic and social inequities. Weems uses the visual language of advertising, combining photographs, text, and bold graphics, to dispel myths about COVID-19 and promote known preventive measures. The project also thanks frontline workers and encourages people to vote in the upcoming elections. Since its launch in April 2020, in Syracuse, New York, where Weems was an artist-in-residence at Syracuse University, the campaign has reached more than ten cities across the United States. "TAKE 6" refers to the recommended social distance of six feet.
This collaboration between the Brooklyn Museum and Weems features several components. Videos styled like public service announcements, featuring the poetry of the Peace Poets, will be shown on a large LED screen in our front plaza (in conjunction with the outdoor video series Art on the Stoop: Sunset Screenings). A site-specific installation of text wraps further messaging around the front of the tiered seating near the fountain. Artist-designed hand fans will be given out at events outside the Museum, including our weekly partnership with The Campaign Against Hunger, where staff volunteers distribute groceries and art activities to neighbors in need.
RESIST COVID TAKE 6! is led by Weems's project Social Studies 101, in association with Pierre Loving, and THE OFFICE performing arts + film. The videos were produced in collaboration with the Brotherhood/Sister Sol. The Brooklyn Museum presentation is organized by Catherine Morris, Sackler Senior Curator, Elizabeth A. Sackler Center for Feminist Art, and Drew Sawyer, Philip Leonian and Edith Rosenbaum Leonian Curator, Photography, with Jenée-Daria Strand, Curatorial Assistant, Elizabeth A. Sackler Center for Feminist Art, Brooklyn Museum.