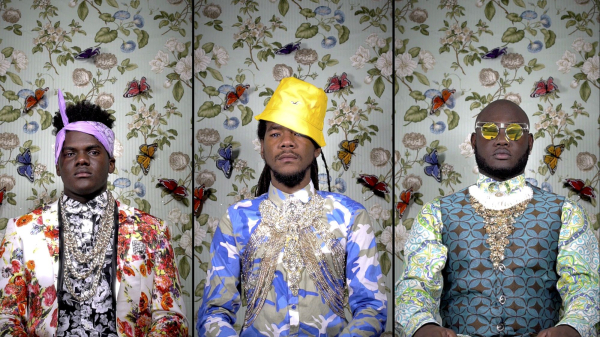 Art on the Stoop: Sunset Screenings
September 9–November 8, 2020, starts at 6 pm
Brooklyn Museum Plaza
NOTE: Screenings may be cancelled because of inclement weather.
We invite Brooklyn Museum visitors, neighbors, and passersby to an outdoor exhibition of major video artworks by artists in our collection, as well as key loans, exploring themes of power and uncertainty, distance and loss, and history's hand in our present times. The artworks are presented in evening screenings on the Museum plaza—our "front stoop"—providing a safe place to gather, rest, and encounter art, while also acknowledging the critical role that public spaces play for idea-sharing, community-building, and democracy.
Art on the Stoop: Sunset Screenings is presented Wednesdays through Sundays, starting at 6 pm, and is approximately two hours in length; on Fridays and Saturdays the Museum is open extended hours, and the program runs twice. Videos with captioning will be shown on a large-format LED screen placed above the tiered seating near the Museum's fountain, allowing for socially distanced viewing. Screenings include public service announcements from Carrie Mae Weems's RESIST COVID TAKE 6! project, which promotes known preventive measures for COVID-19.
From September 9 to October 11, screenings feature the work of Liz Johnson Artur, Arthur Jafa, Steffani Jemison, Ahmed Mater, Marilyn Minter, Wangechi Mutu, Rashaad Newsome, Ebony G. Patterson, Sable Elyse Smith, Tourmaline, Nari Ward with Zachary Fabri, and Sasha Wortzel.
From October 14 to November 8, screenings feature the work of Adama Delphine Fawundu, Jeffrey Gibson, Susan Janow, Lorraine O'Grady, and Howardena Pindell, as well as an excerpt from Question Bridge: Black Males, by Hank Willis Thomas and Chris Johnson with Bayeté Ross Smith and Kamal Sinclair. They also include a special program of videos by Sara Cwynar, Steph Foster, Ja'Tovia Gary, Glenn Ligon, Tiona Nekkia McClodden, and Ka-Man Tse, organized by UOVO Prize–winning artist John Edmonds in conjunction with his solo exhibition at the Museum, which opens October 23, 2020.
September 9–October 11 Schedule:
Wednesdays, Thursdays, and Sundays | September 9, 10, 13, 16, 17, 20, 23, 24, 27, and 30 | October 1, 4, 7, 8, and 11
Ebony G. Patterson. . . . three kings weep . . ., 2018. 8 min., 34 sec.
Wangechi Mutu. Eat Cake, 2012. 12 min., 45 sec.
Tourmaline. Salacia, 2019. 6 min., 4 sec.
Marilyn Minter. Smash, 2014. 7 min.
Rashaad Newsome. KNOT, 2014. 3 min., 45 sec.
Nari Ward with Zachary Fabri. Crusader, 2006. 15 min.
Sasha Wortzel. This is an Address I, 2019. 17 min., 12 sec.
Sasha Wortzel. This is an Address II, 2019. 9 min., 3 sec.
Ahmed Mater. Leaves Fall in All Seasons, 2013. 19 min., 57 sec.
Liz Johnson Artur. AfroRussia, 2019. 13 min., 45 sec.
Fridays and Saturdays (program screens twice each evening) | September 11, 12, 18, 19, 25, and 26 | October 2, 3, 9, and 10
Steffani Jemison. Personal, 2014. 6 min., 45 sec.
Sable Elyse Smith. How We Tell Stories to Children, 2015. 5 min., 51 sec.
Arthur Jafa. akingdoncomethas, 2018. 1 hr., 41 min.
View a PDF with more information about the videos on view September 9–October 11. Check back for the October 14–November 8 lineup.
Every exhibition at the Brooklyn Museum is a collaboration. Many thanks to our team members who participated in a series of cross-departmental discussions that directly shaped the development and production of Art on the Stoop: Sunset Screenings.