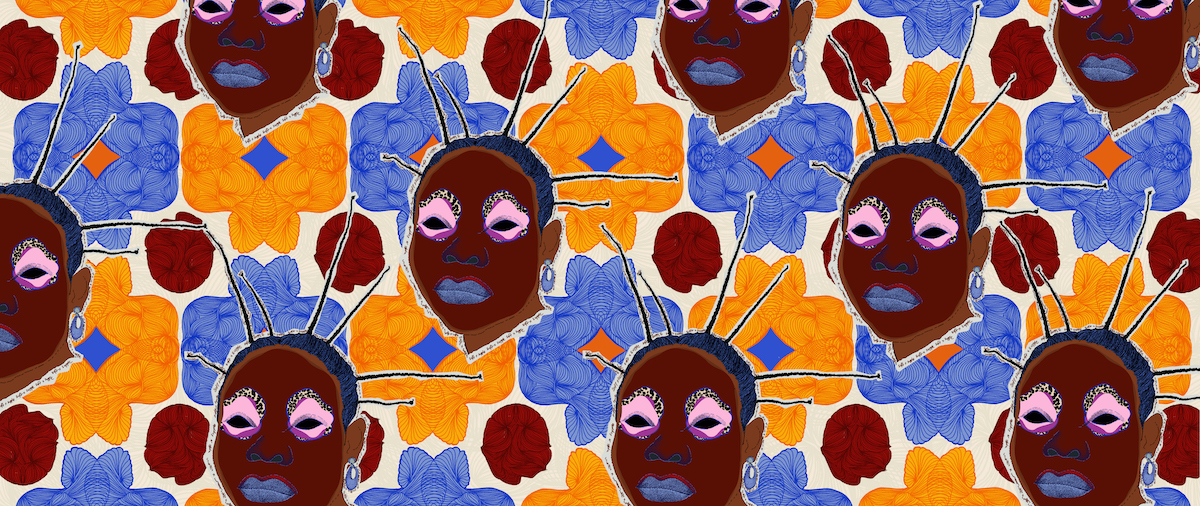 Dream Weavers: The Designers Revolutionizing African Textiles
This essay is republished from Nataal Issue 3 in partnership with Africa Fashion, on view at the Brooklyn Museum June 23–October 22, 2023.
---
Mastering a skill takes 10,000 hours, it's said, so imagine the knowledge passed from mother to daughter, father to son, when the application of those skills is measured not in hours but generations of meticulous evolution and refinement. Textiles have signified wealth and status in Africa for millennia thanks to the craftspeople who have woven, dyed, cut, spun, sewn, beaded, crocheted and embroidered these stunning materials. In Ghana, kente—perhaps the most globally recognized of the continent's textiles—is woven on hand looms, where rich symbolism and storytelling is embedded in the warp and weft. In Ethiopia, finely wrought Amhara embroidery brings the minimal shapes of cotton clothing to new heights. And in Mali, deep, inky-blue fingernails indicate the hands of expert dyers of its centuries-old indigo pits.
Thousands of miles away, petite mains—"little hands"—have passed precious skills through families in the haute couture ateliers of Europe's fashion capitals. It's an alignment not lost on South African designer Thebe Magugu, who in his first collection for the late Alber Albaz's AZ this year, told Vogue: "The things that make up luxury, the idea of time spent creating something, the storytelling, passing something on from generation to generation—are really the same as you find in African craft." We're on the cusp of a textiles revolution and in a time of ethical reckoning for the fashion industry—a timely pick-up from a movement that was kickstarted decades ago. Aso oke—"prestige cloth" or "top cloth"—was popularized by powerhouse "Shade" Thomas-Fahm, often dubbed "Nigeria's first modern fashion designer," whose Lagos store, Shade's Boutique, embodied and championed the pan-African post-independence spirit with her use of this exquisite hand-woven Yoruba fabric in contemporary styles. European familiarity with the complex, mesmerizing motifs of bògòlanfini is thanks in large part to Chris Seydou, the Malian fashion pioneer who made this stunning clay-dyed cotton his signature in the 1960s and 1970s. Fast forward to 2012 and Suzy Menkes, then of the International Herald Tribute, cited an emerging redefinition of what the word luxury means in the 21st century, saying: "Consumers, particularly in the Western hemisphere, are beginning to prize objects touched by human hands—and the hand work in Africa is exceptional."
Illustration by Rendani Nemakhavhani aka PR$DNT HONEY
Now a young generation of designers is at the vanguard of a multitude of fresh approaches to textiles—creating new networks of artisans and specialists, eschewing the traditional fashion system to set up ateliers in their home countries or running hybrid studios across continents. These include Lagos-based Kenneth Ize, whose pre-pandemic Paris Fashion Week debut featured Naomi Campbell; he produces most of his collection from aso oke and tie-dye-inspired textiles made in a factory he established in Nigeria. In Abuja, Nkwo Onwuka of Nkwo developed dakala cloth from upcycled denim, end-of-line fabrics and cutting-table waste, named for the repetitive, clicking sound of the loom used in its manufacture. Emmanuel Okoro of Emmy Kesbit, who won the inaugural annual showcase Africa Fashion Up with Balenciaga last year, champions akwete, a cloth so significant it birthed an industry, bestowing its name to the town whose entrance features a monumental statue of Dada Nwakwata, the 19th-century master weaver who invented it.
Other creatives revolutionizing fabrics in intriguing ways and revitalizing small-scale, age-old techniques and manufacturing include Adeju Thompson of Lagos Space Program, who innovates with what he terms "post-adire"—the application of the ancient indigo-dying technique to knitwear. And Cameroon-born, Paris-based Imane Ayissi, whose red-carpet pieces have been worn by Zendaya and Angela Bassett, was a guest designer on the haute couture schedule in Paris for the first time in 2020. He has used kente as well as obom (bark cloth) and ndop (Cameroonian indigo cloth) and told Vogue: "It's my mission to show how hugely diverse our cultures are: in Cameroon alone we have over 200 dialects; there is a profound complexity that I want to celebrate."
Proponents of the new vanguard frequently define themselves as designer-activists, with a generational refusal to do business as usual.
London-based textile artist Lorelle Aboagye explored and expanded the symbolic language of kente in her Origins collection, which documented her family history by interlocking woven cloth, wire and oxidized washers—her response to seeing Asante gold weights in the V& A and an homage to metalcraft, practiced by her grandfather. She is deeply inspired by the storytelling potential of textiles, explaining how she integrated Indian silk into one of her cloths to evoke the criss-cross of the continent's trade routes. She studied illustration but switched to textiles when she realized their powerful narrative potential. "I remember the first time I saw a loom. I didn't even know what it was! It set me off on a unique journey. Now, I imagine I will make a new piece every year, and each one will be something precious to hand down to my children and grandchildren."
In recent years a sea change has swept through the fashion industry, and the dirty truth about the level of its polluting and exploitative practices is out. The pandemic was also a wake-up call for the necessity and benefits of strengthening local supply chains, as well as questioning working patterns and the cut-throat seasonality of the fashion calendar. Garment retail sales are estimated to be worth around $1.3 trillion, but fashion is also a key contributor to global warming, accounting for up to 10 percent of global carbon emissions.
As such, all eyes are now on Africa, the continent with the youngest demographic in the world, with 70 percent of its population under 30. Here, proponents of the new vanguard frequently define themselves as designer-activists, with a generational refusal to do business as usual that's at the forefront of the sustainability movement. South African Lukhanyo Mdingi, joint winner of the LVMH Karl Lagerfeld Prize 2021, underlines that fashion is a way for his peers to make a social impact. For his latest collection he sourced his woven textiles and knitwear from craft communities in Burkina Faso and Somalia as well as closer to home in the Eastern Cape.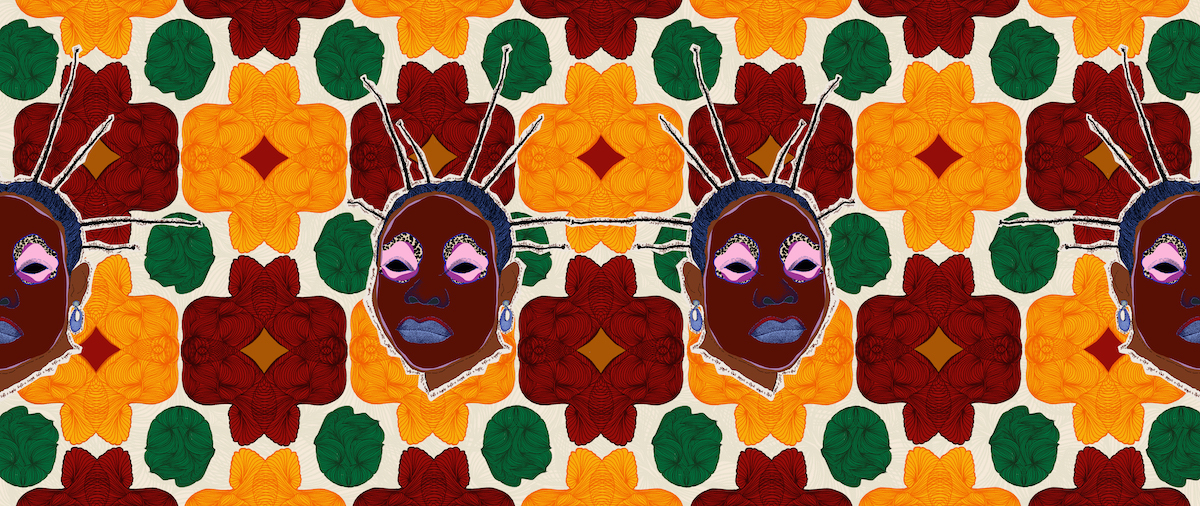 Illustration by Rendani Nemakhavhani aka PR$DNT HONEY
Similarly, Christèle Mbosso, with her fledgling brand Maison Mbosso, is passionate about Ugandan bark cloth, on which she based her latest collection. This versatile material, harvested from the Mutuba tree, was traditionally used to preserve dead bodies, and has natural antimicrobial properties as well as providing protection against MRSA. "It's completely sustainable because the bark has to be harvested every year for it to grow again, and it's not just a beautiful cloth to work with—using it in reliable quantities is a way to completely revitalize the local economy," she said. The Kenyan start-up Green Nettle won the H&M Foundation Global Change Award for its environmentally-friendly textile made from the tenacious plant in 2019. And in tandem with the Ethical Fashion Initiative, Bubu Ogisi of Iamisigo, who runs studios between Lagos, Accra and Nairobi, makes each of her considered pieces to order from fabrics weaving together plant fibers with upcycled plastic, glass and metal. "I'm not interested in mass manufacturing," she said. "I spend time with old men in villages who pass on their weaving skills to their grandchildren because that is the only way the skills will survive."
While the African luxury market is still relatively small, the trickle is set to become a roar. Africa has seen accelerated political, socio-cultural, economic and demographic changes with the rise of a thriving middle class and some of the highest-net-worth consumers of luxury brands in the world. Multi-brand e-tailers such as Industrie Africa and The Folklore have a key part to play in getting African brands to market, and Farfetch recently launched Farfetch Futures to provide business and tech support to Black designers. Aligned with this is the fact that consumers are increasingly taking sustainability and ethics into account and it's a perfect fashion storm. Fashionomics Africa, an African Development Bank initiative that aims to increase participation in the global textile fashion industry, believes in its immense potential. "The circular economy is already embedded in many African fashion brands, as they draw on indigenous knowledge of manufacturing processes that respect the environment and people," said economist and spokesperson Emanuela Gregorio.
The virtue of turning to local manufacturing, materials and supply chains is self-evident. Look to the example of MFP, a leading sustainable textiles company founded by Guinean Mariama Camara, whose pieces have been worn by Michelle Obama. From her bases in New York and Abidjan, she works with a large network of highly skilled artisans on collaborations with the likes of Ulla Johnson and Tory Burch.
This chimes with the African Fashion Foundation, Roberta Annan's non-profit organization, as it rethinks the issue of waste and accelerating the circular economy. Its latest design cohort includes Samuel Oteng, a former finalist at the Gucci Design Fellowship Programme, who joins a winning group of young creators repurposing textiles from second-hand markets in Nigeria, Ghana and Senegal in beautiful and unusual ways. And moving into future technology, British-Zimbabwean bio-scientist Natsai Audrey Chieza has developed a fabric dye from streptomyces—a strain of bacteria found in soil—that drastically reduces the amount of water required to dye fabric and therefore has the potential to clean up mass textile production.
Alphadi—the feted Nigerien designer and UNESCO Ambassador for Peace—launched the International Fashion Festival way back in 1998, and has long been vocal in his criticism of the lack of government efforts to promote homegrown manufacturing, conscious of the immense economic transformation an industry-wide awakening could spark. Now the new generation takes his mantle by stepping up, changing the narrative, creating couture in all but name and taking things into their own hands.
Karen Chung is a London-based senior editor with experience across fashion, beauty and lifestyle and a former editor at Tatler.
Rendani Nemakhavhani is a Joburg-based illustrator and art director whose strong and joyful characters are reflective of her alter ego, PR$DNT HONEY.