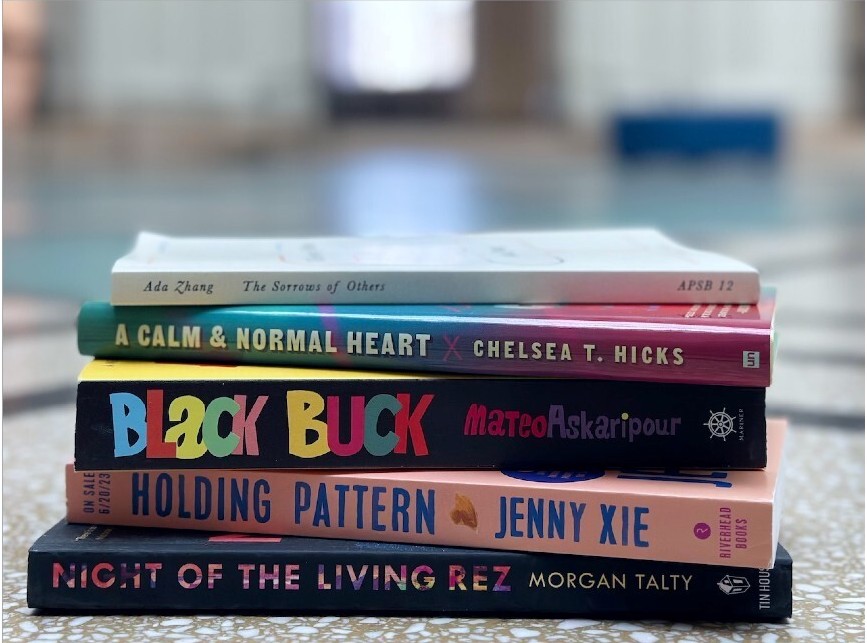 Writers on How Museums Fuel Their Creative Work
Look around the Brooklyn Museum on any day of the week and you'll find a creative community of artists, authors, creators, and friends. We asked five writers—this year's honorees of the National Book Foundation's 5 Under 35 program—how museums, including ours, play a role in their creative process, a question that raised reflections on storytelling, memory, the role of silence in art, and more.
Hear from them below, and join us to celebrate them at the program's first-ever public ceremony on May 25.
***
If you look in my phone, you'll find an image of a man sporting a white flat cap, a blue-and-white wristband, white socks, sneakers, a necklace, glasses, and just that. Yes, he's almost entirely naked, and it's dated September 27, 2018. This piece is modestly titled Brilliantly Endowed (self portrait) by Barkley L. Hendricks, and I saw it during my first time attending the Soul of a Nation: Art in the Age of Black Power exhibition at the Brooklyn Museum.
Swipe my phone's photo album to February 13, 2020, and there's Kehinde Wiley's Napoleon Leading the Army over the Alps. October 8, 2020: a photo of Grace Jones wearing an oversize straw hat, one hand placed to Andy Warhol's chest, featured in the Brooklyn Museum's Studio 54: Night Magic exhibition.
The purpose of these visits, and more, to the Brooklyn Museum, which I'm blessed to call my local museum, was not just to satisfy mere curiosity or cure an itch for "art," but to latch onto the many works of many greats––to meditate with the muses––and siphon as much inspiration I could, like one of those people who suck gas out of strangers' tanks, in the hopes that I would have more creative fuel for my own work. Fortunately, in all of my visits to the Brooklyn Museum, I've never, ever walked away empty-handed.
And while the museum as a cultural institution is important, including its ever-shifting cornucopia of engaging exhibitions, it is also the physical building itself that serves as an oasis for me in these concrete streets.
I'm a writer who works out of my apartment; more specifically, a 3.5 x 2.5–foot corner where sometimes, the magic happens, and other times, misery finds a friend. Because of this, I often take long walks in the evenings, and though I'm rarely conscious of it, the Brooklyn Museum, like a lighthouse, calls out to me, and I'm suddenly ascending its weirdly-wide steps. At the top of the plaza, I close my eyes, center myself, and prepare for another day in that 3.5 x 2.5–foot space. That outdoor balcony has become a special place to me, serving as an extension of the museum that generously arms me with information, inspiration, and an inextinguishable desire to build upon the great artistic traditions of our past; to go to war with myself and live to tell another tale.
Whenever I go to a museum, I attempt to excavate our world's past, present, and future, but I also end up digging deeper into myself, discovering riches that give my work, and life, more meaning, and thus, more value.
–Mateo Askaripour, author of Black Buck (Mariner Books / HarperCollins Publishers)

Museums are complicated sources of inspiration: they house memories, the ones no longer owned and the ones whose owners are still here.
***
When I left my full-time job in November 2021 to focus on editing Holding Pattern, I had grand aspirations for my newfound free time: I would write everyday! I would visit every bookstore in the city! I would go to every museum! This, of course, did not happen, but the intention shows how luxurious I consider a life of writing, reading, and museum-hopping to be—and how intertwined they are in my mind.
So much of what drives my writing is a desire to know and connect with other humans—to locate myself within a vast, prismatic web involving art and culture, history and economics, ecology and technology. Museums are places that facilitate that sort of investigation, having already curated a narrative through objects. They're full of stories, ideas, and information that provide the often-obscured context for understanding people and nature. They're crucibles that make meaning out of the raw stuff of life.
What I encounter in museums—whether it be revelatory folk paintings at the American Visionary Art Museum in Baltimore or the otherworldly designs of Thierry Mugler here at the Brooklyn Museum—reveals another facet of existence that becomes part of my worldview, and inherently part of my work. Other moments are more forceful, either disarming in their power or searingly intimate—I remember walking across a floor of clanking iron plates at the Jewish Museum Berlin or standing at the center of a Richard Serra sculpture at Dia Beacon—and help me encounter myself, which is also an indispensable part of writing.
–Jenny Xie, author of Holding Pattern (Riverhead Books / Penguin Random House)
***
Non-tribal museums can be a difficult part of American culture for me to embrace, because of the pervasive historic looting of Native American gravesites, which has taken place over the last two centuries as American museums worked to establish identities separate from European art identity. The Osage word for writing is waleze, meaning "markings," and waleze refers to visual art as well as patterns and designs, in addition to writing. Despite the difficult relationship with museums, for me the interconnection between writing and visual art is strong. Now that some museums are beginning to return Native art and sacred belongings to tribes, I've embraced museums more in my artistic practice, particularly contemporary art exhibitions that reflect how the experiences of people of color have been maligned by the colonial experience in the US. I love honorific art that celebrates the ancientness and inventive newness of the cultures which have been historically debased and maligned by the colonial project, and which also encourages our nation to correct for this history by helping to re-elevate peoples who have been debased by America.
I'm looking forward to seeing several of the current exhibitions at the Brooklyn Museum, which looks to have an expansive range of contemporary art.
–Chelsea T. Hicks, author of A Calm & Normal Heart (Unnamed Press)

It's a gift these days to be someplace where silent reflection is encouraged, and where you don't have to speak at all to be part of a larger conversation.
***
As a child, I understood that museums were an important part of society and culture, and visited many on field trips. As an adult, I make sure to visit them when traveling, but as an indigenous person, I often leave with the feeling that Native people are positioned as something gone, something no longer here, just a memory. A number of museums have in their collections stolen Indigenous objects that do not belong to them.
But we are here, which is exactly what Native fiction and storytelling is doing—which is what I aim to do in my own writing. Museums, in this way, help me write because they are complicated sources of inspiration: they house memories, the ones no longer owned and the ones whose owners are still here.
–Morgan Talty, author of Night of the Living Rez (Tin House Books)
***
Often when I feel stuck creatively, I'll venture to a museum. Almost any kind will do. Like others, I feel inspired by the stories that museums preserve, the cultures and artifacts that together make up a collective memory of humankind. Nothing beats an afternoon alone, staring at sculptures by Méret Oppenheim (MoMA) or tiny chairs by Ming Cho Lee (MOCA), or even whale penises—hundreds!—at the Icelandic Phallological Museum. I love the quiet that a museum provides. It's a gift these days to be someplace where silent reflection is encouraged, and where you don't have to speak at all to be part of a larger conversation.
The Brooklyn Museum is special, I think, because it acknowledges boldly that art is at the forefront of so many of our public discourses. Race, religion, identity, politics—art has a hand in all of these, in everything, and so museums as institutions have a responsibility to engage with these subjects meaningfully. Otherwise, museums become symbols. A symbol is always dead, whereas museums are meant to be living. It takes striving and innovation to resist becoming a symbol, and so far, the Brooklyn Museum has done that.
–Ada Zhang, author of The Sorrows of Others (A Public Space)
Corinne Segal is Senior Manager of Web Content at the Brooklyn Museum.