Fay Ku
Brooklyn,
USA
Fay Ku was born in Taipei, Taiwan and raised in the United States. She received a M.F.A. in Studio Art and M.S. in History of Art and Design from Pratt Institute in Brooklyn, NY, and a dual B.A. in literature and visual arts from Bennington College in Vermont.
Ku has participated in numerous residencies including the Hermitage Artist Retreat in Sarasota, FL, Tamarind Institute in Albuquerque, NM, as well as extended residencies at the Bemis Center for Contemporary Art, Lower East Side Printshop in New York, the Santa Fe Art Institute and Women's Studio Workshop, Rosendale, NY. She is a 2007 recipient the Louis Comfort Tiffany Foundation Grant and a 2009 New York Foundation for the Arts Fellowship Grant in Drawing/Printmaking/Artist's Books. She currently serves on NYFA's Artist Advisory Board.
Ku has been honored with solo museum exhibitions at the New Britain Museum of American Art (New Britain, CT) and The Contemporary Museum in Honolulu, HI. She has exhibited in group exhibitions at the Brooklyn Academy of Music (Brooklyn, NY) He XiangNing Art Museum (Shen Zhen, China), John Michael Kohler Arts Center (Sheboygen, WI), the National Museum of Women in the Arts (Washington, D.C.) and Taipei Cultural Center (New York).
Her artwork has appeared in New York Times Magazine and was herself the subject of a feature-ette on the Sundance Channel. She was commissioned to create a hotel room installation for the National Performance Network 2009 conference, and an artist table for the Brooklyn Museum's 2012 Artist Ball gala.
The artist lives and works in Brooklyn, NY.
Feminist Artist Statement
I remember being taught, as young child, that the Chinese character for "good" consists of the ideograph "woman" paired with the one for "son."
As an immigrant brought up in two cultures, I was aware from a young age how worldviews are encoded within the language, social customs and material culture. Because I was constantly crossing from one world to another, I realized from early on the fluidity of identity and how we tell multiple stories of ourselves.
While I try to challenge expectations and constraints, I want to also acknowledge resonances inherited from history as well as the darker elements of our human nature.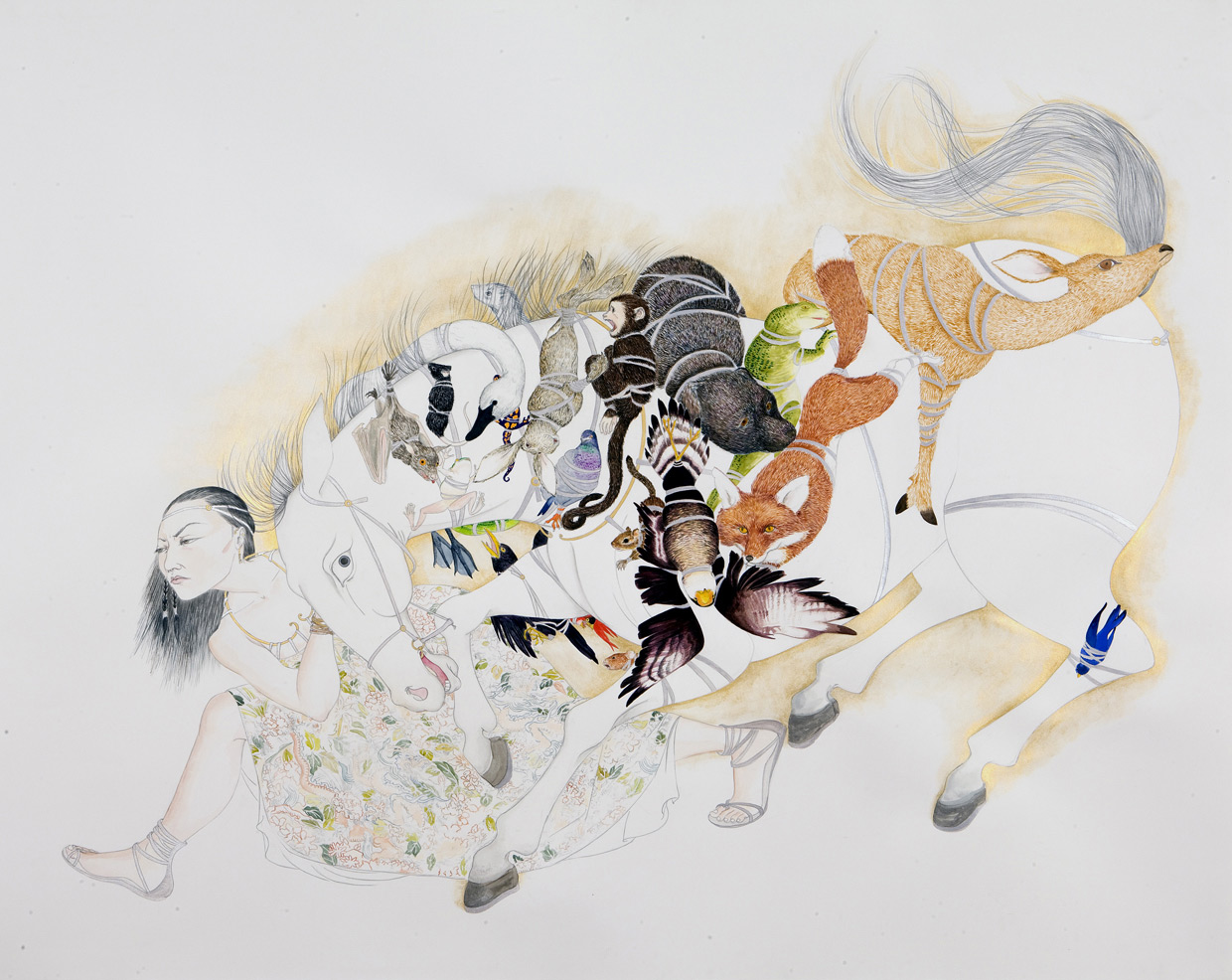 Text, images, audio, and/or video in the Feminist Art Base are copyrighted by the contributing artists unless otherwise noted. All rights reserved.