Joan Arbeiter
Metuchen,
USA
Joan Arbeiter is an artist drawn to people, nature and the ironies of her pre-feminist circumstance.
Her art has focused on Women Artists, Street People, The Vanishing Vista, Friends and Neighbors, a Job Search, Familiar Faces, The Artists Palate, and Portraits of the Artist. As A Young Girl Fulfilling Society's Limited Expectations, an on-going series. Portraying her images in the media and size she finds appropriate, Joan weaves into her art a text of personal, political and/or social significance relating to her subject.
The artist is co-author of Lives and Works: Talks With Women Artists, Vol 2 (1996,1999) with Beryl Smith and the late Sally S. Swenson. She has been published, quoted, reviewed or reproduced in Manhattan Arts International, Spirit Taking Form by Nancy Azara, Language Visual Art, Frontiers, Women's Art Journal, World Hunger Year Magazine, catalogue essays and publications of Douglass College and Rutgers University and on radio, TV and the internet.
Her feminist consciousness was awakened in 1979 at the New York Feminist Art Institute, where in Nancy Azara's Visual Diaries class she learned to connect being an artist with being a woman. These sensibilities continued to expand during her association with the Women's Caucus For Art, and with the artists who exhibited in the Women's Artist Series at Douglass College and who later became the subjects in her book.
Joan attended Douglass College, received her BA from Brooklyn College and MFA from Pratt Institute. An art educator for 30 years, she directed the Joan Arbeiter Studio School and was artist-in-residence for the New Jersey School of the Arts. Joan joined the faculty of The duCret School of Art in 1978, where she continues to teach.
Joan is an exhibiting artist at Ceres Gallery, NY, and The Varo Registry Active as curator, consultant, lecturer, moderator, and juror, she is a member of ARTTABLE and an honorary member of the Board of the Women's Studio Center from whom she received The Elan Award for mentoring.
Joan Arbeiter's work has been seen in more than 20 solo exhibitions and 100 group exhibitions. Her work is in the permanent collection of the Noyes Museum and in public and private collections throughout the country.
Feminist Artist Statement
For me feminism is life-affirming and open-minded. It is the lens through which I perceive my artistic practice and my personal and political circumstance.
I have seen how vital the feminist movement is to the world at large and have come to understand how my own life and art may be considered relevant in this wider context.
A tremendous effort has brought us this far and I am grateful to the many incredible feminists for their art, their scholarship, their leadership and their support.
Here's to the next wave! The door is closing if we don't keep pushing against it.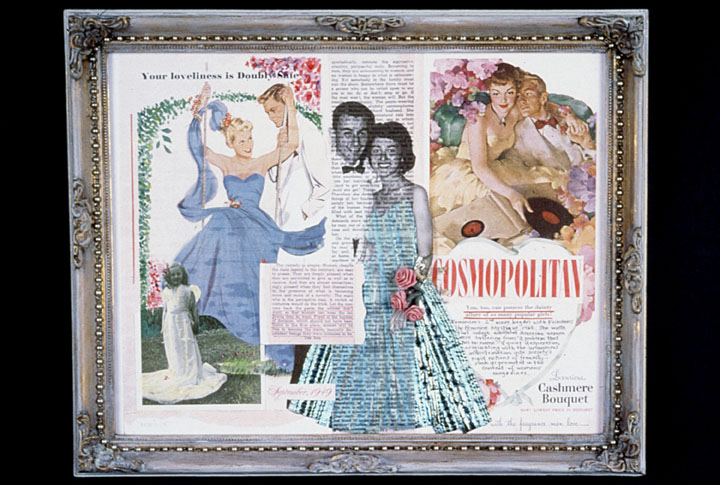 Trapped in the Text (part of Portrait of the Artist as a Young Girl Fulfilling Society's Limited Expectations Series)
These 1949 advertisements and Cosmopolitan magazine article exhort young women to smell good, be dainty, and "let men wear the pants."
Here I am - first as a child (absorbing) and later as Prom Queen (reflecting) these lessons.
In her 1963 book, The Feminine Mystique, Betty Friedan wrote that married, college educated American women living in the suburbs were suffering from "a problem that has no name."
Could their "vague yearning" and "quiet desperation" have been the result of a shallow and unfulfiling lifestyle?
Portrait of the Artist as a Young Girl Fulfilling Society's Limited Expectations Series
There are three main elements in the mixed media assemblages. Each begins with vintage photos of me during my formative years, then docu­ments the timeframe in question with an authentic period magazine illus­tration and finally, updates and completes the message by including posi­tion statements from contemporary feminist books and periodicals e.g. Kate Millet, Betty Friedan, N.O.W., Feminist Majority, and Girls, Inc.
It took the Women's Movement to help me to see these cute snapshots in a different light: as a record of my being prepared to assume the then prevailing gender roles.
Contact
41 Victory Court
Metuchen, 08840
USA
Email
Text, images, audio, and/or video in the Feminist Art Base are copyrighted by the contributing artists unless otherwise noted. All rights reserved.