Janet Goldner
New York,
United States
Born to a family of political activists, I grew up in the Washington, D.C. area, immersed in the social and political issues of the 1960's. The evolution of my sculpture traces my enduring exploration of sculptural form, my ongoing relationship with African culture, and my lifelong involvement in political activism. My life experiences have played an integral part in the development of my work, and have allowed my oeuvre to carry on a unique cohesion where themes recur and overlap, appear and disappear, then reappear in altered form.
Over thirty years as an active artist, I have shown my work in over twenty solo exhibitions, and nearly one hundred group exhibitions throughout the United States, as well as in Lithuania, Germany, Italy, Bosnia, Australia, New Zealand, and Mali. I am the recipient of numerous awards, grants, and artist residencies, including a Fulbright Fellowship and a grant from the UN Special Committee Against Apartheid. I participated in Forum '85, the United Nations Women's Conference in Nairobi.
My work has been published in many books, journals, magazines, catalogs, and news sources. An artist-scholar, I have curated exhibitions, published articles and catalogs, and lectured at conferences, universities, and community venues. I have also conducted sculpture workshops and community art projects in both the United States and Mali.
Feminist Artist Statement
I have been a feminist since I was a little girl. It just made sense from the beginning. I was an avid reader of biographies, especially autobiographies. My interest was in the lives of women, but in the 1950s few were available, especially for children. I read about Amelia Earhart, Harriet Beecher Stowe, Clara Barton, and Juliette Lowe, founder of the Girls Scouts.
The Feminist Movement of the 1970s came as a natural extension of the Civil Rights Movement and the anti-war struggles. Since I was in my 20s, I came of age during the '70s feminist movement. There was no need to reinvent myself, since I was reinventing myself in the first place.
I began my career as a fiber artist. I pushed fiber beyond its traditional two-dimensions, creating three-dimensional works that emphasized shape and texture. I became interested in wire mesh as a visual element, rather than as armature, since it allowed me to more sharply articulate forms, and began to make metal my primary material. Feminist concerns can be seen in the female torso-shaped steel vessels on which I draw and write. They can also be seen in several of the tablet pieces from the early 90's such as What Do I Know? which questions identity. Also, I am a welder working in steel, a traditionally male occupation. I weld because it allows me to do what I need as an artist.
During my 20s I began what has become a life-long relationship with Africa, especially Mali. I have worked with my Malian women artist friends to help exhibit their works and to seek support and encouragement from each other using the model of women artist support groups I have been involved with in the US such as WCA (Women's Caucus for Art) and WAC (Women's Action Coalition). I believe that feminism is about being able to work to fulfill one's dreams and potential, whatever that may be.
I think of our multiple identities and histories, and I think of the diverse audiences for whom the Brooklyn Museum is their neighborhood museum. Feminism is the coming together of women. It is community, collaboration, celebration, and joy. Feminism is expanding opportunities globally for women to speak, to have their voices heard.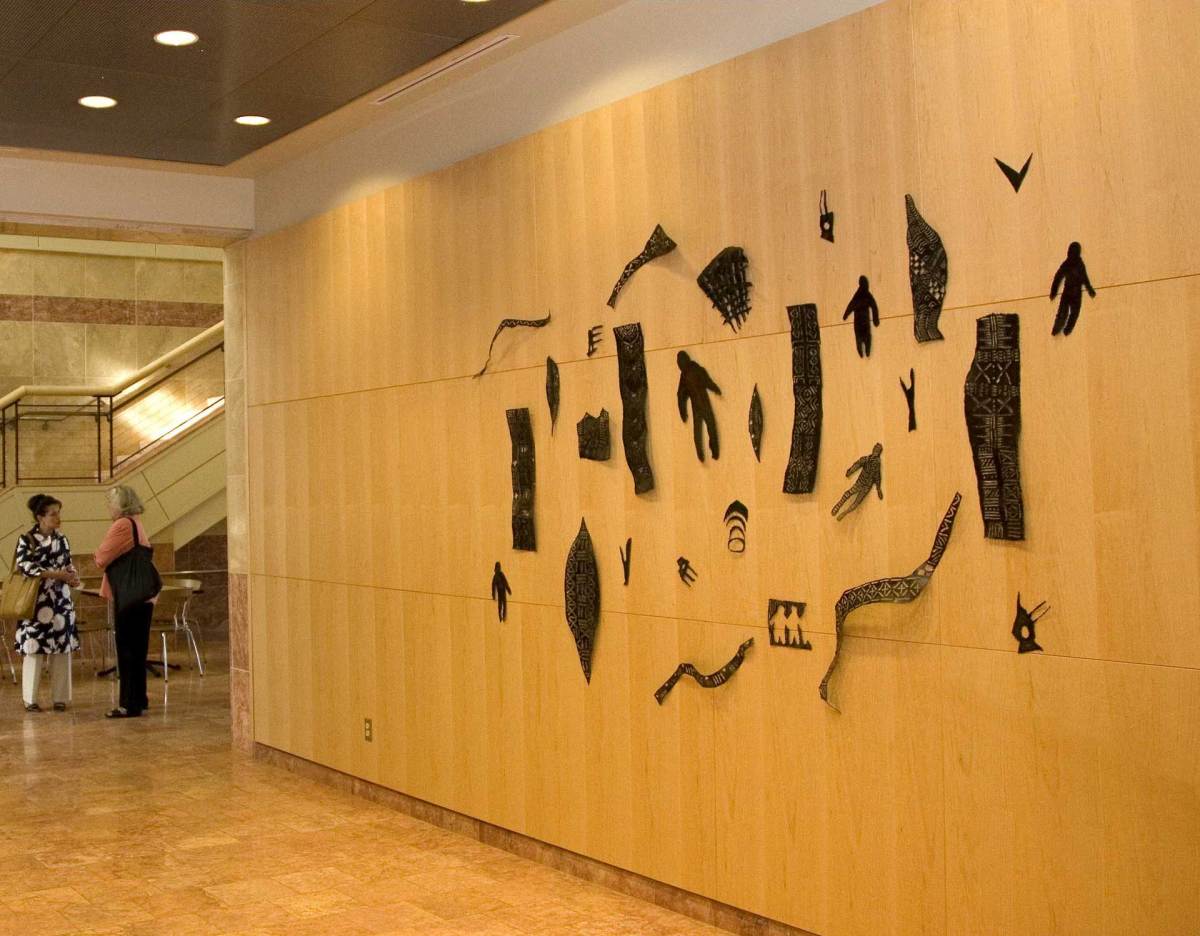 Negelan is a wall installation composed of elements, iconography that has occurred in my work for many years. Cut-out steel figures, feathers, hands, and geometric patterning comprise the intricate, lacy steel elements of this large-scale wall installation. I found many of the steel shapes among scrap and outtakes from my own previous work. Word relationships are also at play in this work. The word negelan is a pun on the bamanankan (one of the languages spoken in Mali) word bogolan: "bogo" is the word for clay; "nege" is the word for metal. By using bogolan patterning in metal, my piece becomes negelan.
Contact
52 Warren Street
New York, 10007
United States
Email
Text, images, audio, and/or video in the Feminist Art Base are copyrighted by the contributing artists unless otherwise noted. All rights reserved.