Judy Gelles
Philadelphia,
USA
In 1977 Judy Gelles began writing on her photographs to document her life. What began as a personal recording has turned into a social document. She received a MFA degree in Photography from the Rhode Island School of Design in 1991. Her work is in major collections such as the Los Angeles County Museum of Art, and the Philadelphia Museum of Art. Artist Residencies include the MacDowell Colony, the Visual Studies Workshop, and the Atlantic Center for the Arts. She has published three books: "When We Were Ten" and "Florida Family Portrait" with the Visual Studies Workshop in Rochester, NY, and "Beach Boxes" with Nazraeli Press. Awards include 2007-2008 Fleisher Challenge Artist, Philadelphia, an Individual Artist Grant from the Rhode Island State Council on the Arts, an Independence Foundation Fellowship in the Arts Grant, Philadelphia, a Mid-Atlantic Arts Foundation Artist As Catalyst Grant, and a grant from WYBE Public Television, Philadelphia Stories New Program Grant. She is represented by the Stephen Cohen Gallery in Los Angeles, the Cohen Amador Gallery in New York City, and the Etherton Gallery in Tucson, Arizona. She has taught at the School of the Museum of Fine Arts in Boston, Tufts University in Boston, Boston College, University of the Arts in Philadelphia, Tyler School of Art in Philadelphia, and the International Center for Photography in New York City.
Feminist Artist Statement
Having long been caught in the nexus of feminism, motherhood, finding a career and developing as an artist, I have undertaken a determined and obsessive thirty-year exploration on these issues, providing social commentary on who we are and how we think in this socially organized world. My collaboration with family members follows the evolution of someone who has survived traditional female expectations. Beginning with the series, "Family 1977-82," I documented the daily life of an artist as a young mother alongside her two sons and husband. Autobiographical stories were used to depict subtle ways we were taught to be male and female in our culture. My intent is to show that reality is not hard and simple but multi-leveled and fragile. Sexuality, aging, and parenting are consistent themes throughout the work. A generation later I am working in video, tackling the topics of passage of time, and aging. What began as a personal recording has turned into a social document.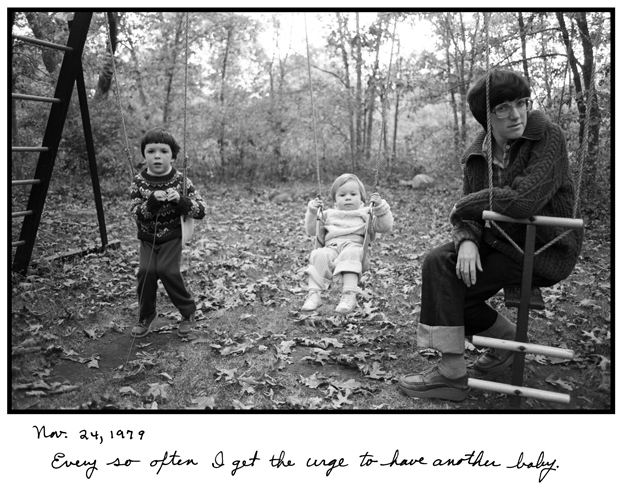 This image is part of a series titled "Diary of a Desperate Housewife: 1977-1982" I set up the camera on a tripod and documented my life as a mother of two young children from 1977-1982. I kept a journal during this period, and added the handwritten text from my journal writing to the photographs.
In this photo, my three year-old son Jason is squeezing the cable release to take the photo.
Contact
642 Pine Street
Philadelphia,
USA
Email
Text, images, audio, and/or video in the Feminist Art Base are copyrighted by the contributing artists unless otherwise noted. All rights reserved.