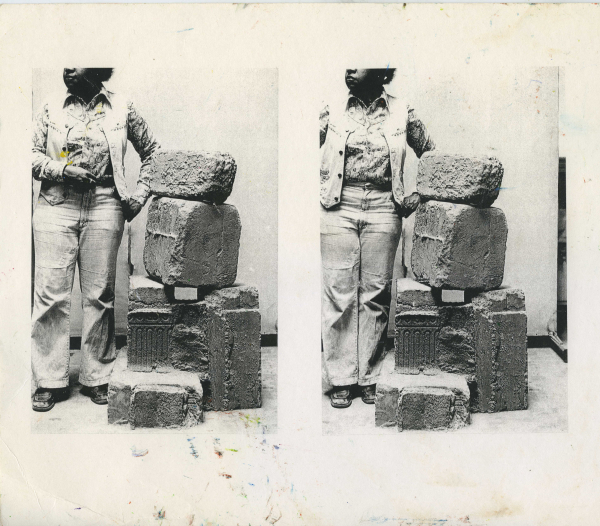 Beverly Buchanan—Ruins and Rituals
October 21, 2016–March 5, 2017
Beverly Buchanan (1940–2015) explored the relationship between memory—personal, historical, and geographical—and place. Engaging with the most vanguard movements of her time, including Land Art, Post-Minimalism, and feminism, she linked political and social consciousness to the formal aesthetics of abstraction.
The most comprehensive exhibition of Buchanan's work to date, Beverly Buchanan—Ruins and Rituals presents approximately 200 objects, including sculpture, painting, photography, drawing, and notebooks of the artist's writing as well as documentation of performances. A new video installation of her existing earthworks is presented for the first time.

Emphasizing how Buchanan's work resisted easy categorization, this exhibition investigates her dialogue not only with a range of styles, materials, and movements, but also with gender, race, and identity. Works on view examine histories of locations where she lived and worked, including Florida, New York, and Georgia.

According to Buchanan, "… a lot of my pieces have the word 'ruins' in their titles because I think that tells you this object has been through a lot and survived—that's the idea behind the sculptures…it's like, 'Here I am; I'm still here!' "
Beverly Buchanan—Ruins and Rituals is organized by guest curators Jennifer Burris and Park McArthur, and coordinated by Catherine Morris, Sackler Family Curator for the Elizabeth A. Sackler Center for Feminist Art, and Cora Michael, Associate Curator of Exhibitions, Brooklyn Museum.
Generous support for this exhibition is provided by the Brooklyn Museum's Contemporary Art Acquisitions Committee.

Beverly Buchanan—Ruins and Rituals is part of A Year of Yes: Reimagining Feminism at the Brooklyn Museum, a yearlong series of exhibitions celebrating the 10th anniversary of the Elizabeth A. Sackler Center for Feminist Art.