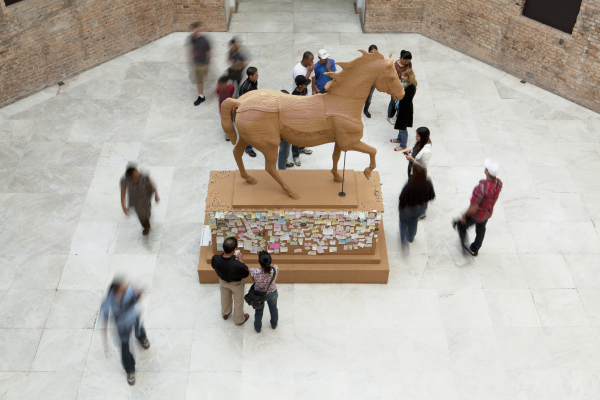 Crossing Brooklyn: Art from Bushwick, Bed-Stuy, and Beyond
October 3, 2014–January 4, 2015
Reflecting the rich creative diversity of Brooklyn, Crossing Brooklyn presents work by thirty-five Brooklyn-based artists or collectives. The exhibition and related programming take place in the galleries and on the grounds of the Museum, as well as off-site in the streets, waterways, and other public spaces of the borough.
Emphasizing artistic practices that engage with the world, the exhibition includes artists who aim to expand their focus and have an impact beyond the studio and the museum. The resulting work defies easy categorization, taking on diverse forms that include public and private action, the use of found or collected objects, and interactive and educational events, among others. Alongside the drawings, paintings, photographs, sculptures, installations, videos, and performances on view are several site-specific works.
While acknowledging Brooklyn's heightened profile, Crossing Brooklyn presents a multigenerational picture that recognizes the borough's long-established role as a creative center. Other themes explored in the exhibition include history and memory, place and geography, community, nostalgia, exchange, ephemerality, and politics, both local and remote.
The artists included in this exhibition are Yuji Agematsu, Janine Antoni, Nobutaka Aozaki, Daniel Bejar, BFAMFAPhD (Julian Boilen, Susan Jahoda, Blair Murphy, Vicky Virgin, Lika Volkova, and Caroline Woolard), Linda Goode Bryant and Project EATS, Aisha Cousins, Cynthia Daignault, Elastic City (Todd Shalom), Zachary Fabri, Brendan Fernandes, Gordon Hall, Drew Hamilton, Heather Hart, Pablo Helguera, David Horvitz, Yoko Inoue, Steffani Jemison, Matthew Jensen, Nina Katchadourian, McKendree Key, William Lamson, Deana Lawson, Shaun Leonardo, Marie Lorenz, Miguel Luciano, Shantell Martin, Mary Mattingly, Kambui Olujimi, Paul Ramírez Jonas, Duke Riley, Lisa Sigal, Xaviera Simmons, Tatlo (Sara Jimenez, Michael Watson, and Jade Yumang), and Bryan Zanisnik.
Crossing Brooklyn: Art from Bushwick, Bed-Stuy, and Beyond is organized by Eugenie Tsai, John and Barbara Vogelstein Curator of Contemporary Art, and Rujeko Hockley, Assistant Curator of Contemporary Art, Brooklyn Museum. A catalogue including a roundtable conversation among several longtime Brooklyn artists accompanies the exhibition.