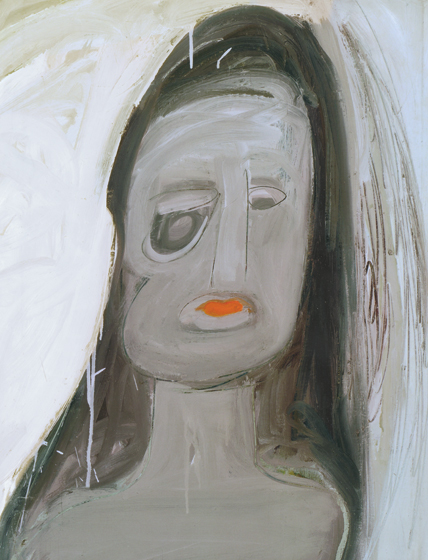 Eva Hesse Spectres 1960
September 16, 2011–January 8, 2012
In the four decades since her untimely death at age thirty-four, Eva Hesse (1936–1970) has become internationally renowned for the sculptural assemblages she made beginning in the mid-1960s. Eva Hesse Spectres 1960 presents for the first time a group of nineteen oil paintings created when Hesse was just twenty-four years old. Composed of two bodies of work, the Spectres paintings present a young painter establishing her own creative identity. The first group of intimately scaled paintings features loosely rendered groups of figures related to yet spatially disconnected from one another. A group of larger paintings presents odd, otherworldly creatures that bear a distinct resemblance to the artist herself.
Eva Hesse Spectres 1960 focuses on what curator E. Luanne McKinnon calls Hesse's "spectre" paintings. The term refers to an "image or apparition," which describes both the temperament of these works as well as Hesse's examination of herself at this critical point in her maturation as an artist. The exhibition considers these evocative works not merely as self-portraits but as explorations of states of consciousness. Working against critical commentary that has dismissed the paintings as abject exercises in self-deprecation, this exhibition examines them as a testimony to the artist's private struggles and professional aspirations.
Eva Hesse Spectres 1960 was organized by E. Luanne McKinnon, Director, University of New Mexico Art Museum, Albuquerque, in collaboration with the Estate of Eva Hesse and made possible by the FUNd Endowment, the Julius Rolshoven Memorial Fund, and the Robert Lehman Foundation.
The Brooklyn exhibition was organized by Catherine Morris, Curator of the Elizabeth A. Sackler Center for Feminist Art.
Major support for the Brooklyn Museum presentation is provided by the Elizabeth A. Sackler Foundation. Generous support is also provided by the Stephanie and Tim Ingrassia Contemporary Art Exhibition Fund and the Helene Zucker Seeman Memorial Exhibition Fund.