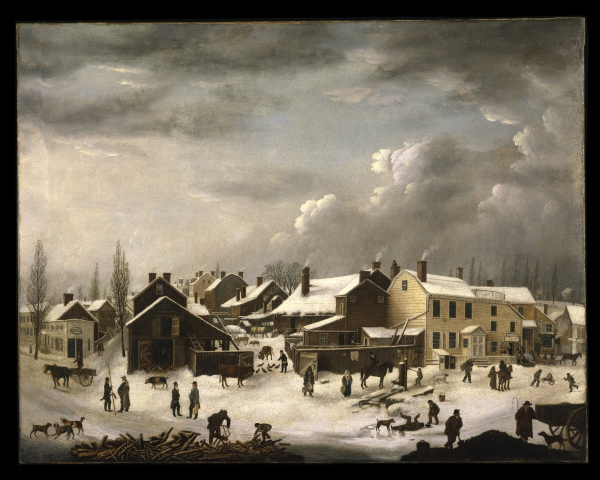 Picturing Place: Francis Guy's Brooklyn, 1820
March 22–June 18, 2006
This exhibition brings together, for the first time in more than 180 years, two scenes of downtown Brooklyn made around 1820 by the important early landscape painter Francis Guy (1760–1820). Representing the bustling village on a winter day, these monumental paintings have become iconic images of early-nineteenth-century Brooklyn. This exhibition, featuring Guy's pictures and a selection of related objects from the Museum's collections, explores the way art constructs the identity of a place through the depiction of its physical appearance and its people.
In his two Winter Scenes, Guy carefully delineated Brooklyn's busy intersections and distinctive architecture, as well as the diversity of its inhabitants. While this reportorial approach suggests a local focus, the paintings participate in broader artistic trends that distinguished American scenery as a source of aesthetic beauty and national pride. Guy's representation of the Brooklyn community comprises a range of professional, social, and ethnic groups and testifies to a Brooklyn that was marked by diversity then, as it is now.
Picturing Place: Francis Guy's Brooklyn, 1820 was made possible by the American Art Council of the Brooklyn Museum. It was organized by Karen Sherry, Assistant Curator of American Art.