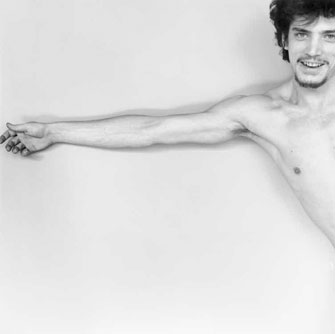 HIDE/SEEK: Difference and Desire in American Portraiture
November 18, 2011–February 12, 2012
The first major museum exhibition to focus on themes of gender and sexuality in modern American portraiture, HIDE/SEEK: Difference and Desire in American Portraiture brings together more than one hundred works in a wide range of media, including paintings, photographs, works on paper, film, and installation art. The exhibition charts the underdocumented role that sexual identity has played in the making of modern art, and highlights the contributions of gay and lesbian artists to American art. Beginning in the late nineteenth century with Thomas Eakins' Realist paintings, HIDE/SEEK traces the often coded narrative of sexual desire in art produced throughout the early modern period and up to the present. The exhibition features pieces by canonical figures in American art—including George Bellows, Marsden Hartley, Alice Neel, and Berenice Abbott—along with works that openly assert gay and lesbian subjects in modern and contemporary art, by artists such as Jess Collins and Tee Corinne.
In addition to revealing connections between sexual identity and formal developments in modern art, HIDE/SEEK presents artists' responses to the Stonewall Riots of 1969, the AIDS epidemic, and postmodern themes of identity, highlighted with major pieces by artists such as AA Bronson, Félix González-Torres, and Annie Leibovitz. More than simply documenting a prominent subculture often relegated to the margins of American art, HIDE/SEEK offers a unique survey of more than a century of American portraiture and leads the way towards a more nuanced and inclusive understanding of modern art in America.
Some pieces in this exhibition are directed toward adult audiences. Parents and teachers are advised to preview the exhibition.
HIDE/SEEK: Difference and Desire in American Portraiture was originally organized by the National Portrait Gallery, Smithsonian Institution, and has been reorganized by the Brooklyn Museum and the Tacoma Art Museum. The original presentation was co-curated by David C. Ward, National Portrait Gallery, and Jonathan D. Katz, director of the doctoral program in visual studies at the State University of New York at Buffalo. The Brooklyn Museum presentation is coordinated by Tricia Laughlin Bloom, Project Curator.
The Brooklyn presentation is sponsored by
Other generous support has been provided by The Andy Warhol Foundation for the Visual Arts, Barbara and Richard Moore, The Calamus Foundation, the Robert Mapplethorpe Foundation, the May and Samuel Rudin Family Foundation, Inc., Donald A. Capoccia and Tommie Pegues, the Steven A. and Alexandra M. Cohen Foundation, Inc., Leslie and David Puth, Allison Grover and Susie Scher, the David Schwartz Foundation, Mario J. Palumbo, Jr., Tom Healy and Fred Hochberg, Hermes Mallea and Carey Maloney, and other generous donors.
Educational programs are supported by the Keith Haring Foundation.
Print media sponsor