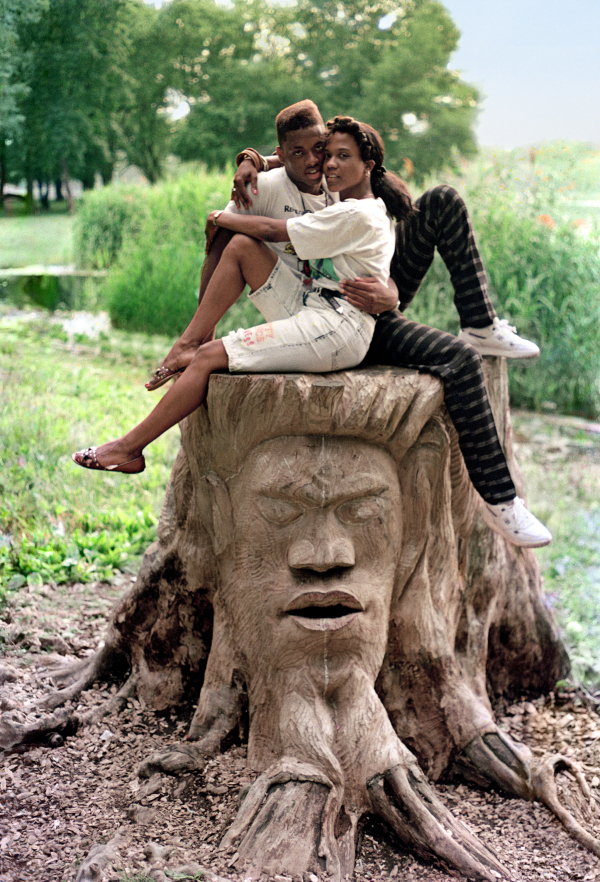 Jamel Shabazz: Faces and Places, 1980–2023
June 2–October 8, 2023
Brooklyn Museum Plaza
Photographs capturing four decades of the vibrant people and places of Brooklyn and other locales will line our outdoor plaza this summer, celebrating the borough and the work of Jamel Shabazz. Since 1980, Shabazz has documented the vitality of city life and hip-hop culture in New York City and beyond, creating enduring images of style, community, and joy. Recognizing his significant contributions to Brooklyn—and the fiftieth anniversary of hip-hop—this installation showcases hundreds of Shabazz's portraits, drawn from his remarkable archive.
Shabazz's earliest influences include his family's photo albums, which have been passed down and expanded over generations. During the 1980s and '90s, Shabazz had his film processed at a lab that provided two prints of each image. He would give one print to his subjects and archive the other in his own albums, which he often presents to potential models. Along with individual portraits, Faces and Places features reproductions of several pages from these albums, focusing on Shabazz's extensive work in New York City parks over the past forty years.
Jamel Shabazz: Faces and Places, 1980–2023 is organized by Drew Sawyer, Phillip and Edith Leonian Curator of Photography, with Imani Williford, Curatorial Assistant, Photography, Fashion, and Material Culture, Brooklyn Museum.
Leadership support for this installation is provided by the Phillip Leonian and Edith Rosenbaum Leonian Charitable Trust.