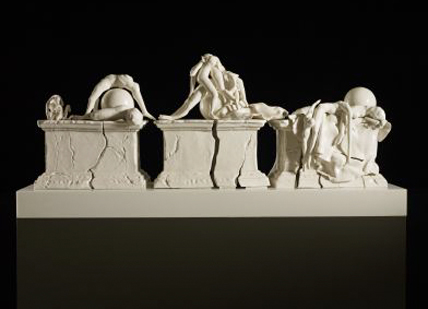 Rachel Kneebone: Regarding Rodin
January 27–August 12, 2012
Rachel Kneebone: Regarding Rodin features fifteen iconic works by nineteenth-century French master Auguste Rodin, selected from the Museum's collection by British artist Rachel Kneebone and shown alongside eight of her own large-scale porcelain sculptures. The exhibition, Kneebone's first major museum presentation, will highlight the artists' shared interest in the representation of mourning, ecstasy, death, and vitality in figurative sculpture. The pairing also offers a visual comparison of the two sculptors' materials and processes. Kneebone's intricately wrought artworks, simultaneously pristine and agitated, contain allusions to Michelangelo, Gianlorenzo Bernini, and Louise Bourgeois. Integrating recognizable human forms with odd mutations, they provide a stark contrast to Rodin's dark, more-concrete, yet equally animated bronzes. Whereas Rodin cast his sculpture, Kneebone creates unique artworks that she fires in a small kiln in her studio, often in sections to be assembled later. The centerpiece of the exhibition, The Descent (2008), is Kneebone's largest work to date. It was inspired by Dante Alighieri's Divine Comedy, as was Rodin's masterpiece The Gates of Hell (1880–1917). The London-based Kneebone was born in 1973 in Oxfordshire, England, and Rodin (1840–1917) was born in Paris.
Rachel Kneebone: Regarding Rodin was organized by Catherine Morris, Curator of the Elizabeth A. Sackler Center for Feminist Art, Brooklyn Museum.
This exhibition is made possible by the Elizabeth A. Sackler Foundation, with additional support provided by Lisa and Dick Cashin.