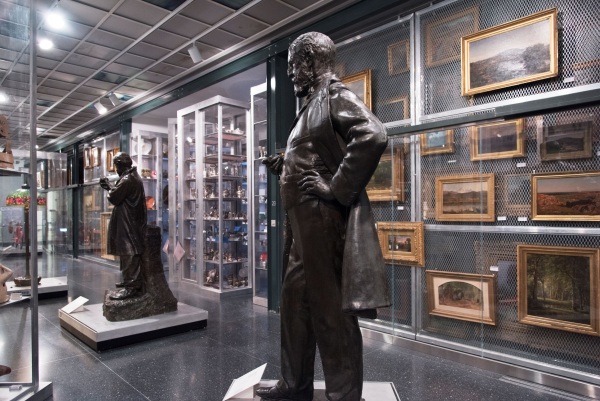 Visible Storage ▪ Study Center
Long-Term Installation
Luce Center for American Art, 5th Floor
A major component of the Luce Center for American Art is the 5,000-square-foot Visible Storage ▪ Study Center. This dense display of objects offers an inside look at how museums work and provides a glimpse of our extensive American collections. As large as our building is, just a small fraction of the permanent collections can be displayed in our gallery space. Whereas only about 350 works are on view in the adjacent American Art installation, this facility gives open access to some 2,000 of the many thousands of American objects held in storage, which are available for viewing and research by students, scholars, and the general public.
The Visible Storage ▪ Study Center is a working facility as much as our other storerooms, with works maintained under proper conditions of temperature, humidity, and light levels. Glass-walled bays contain a rotating selection of nearly six hundred paintings on rolling racks. Large glass vitrines hold the majority of our collection of historical (that is, pre-1945) American sculpture. Other vitrines contain objects from the American decorative arts collection, including pewter, commemorative pressed glass, Tiffany glass and lamps, contemporary industrial design and furniture, silver, eighteenth-century furniture, nineteenth-century seating with original upholstery, and Brooklyn-made ceramics. There are also representative displays of Native American and Spanish colonial objects. Three areas are devoted to small exhibitions that change periodically and provide focused examinations of different art historical themes or aspects of the permanent collections.
Although this is an operating storage facility, we have designed it to be welcoming and user friendly. Accompanied by informational booklets, selected "focus objects" are displayed on colored shelves, in cases, and on the painting screens. There is a searchable online database, also available in the Visible Storage ▪ Study Center.