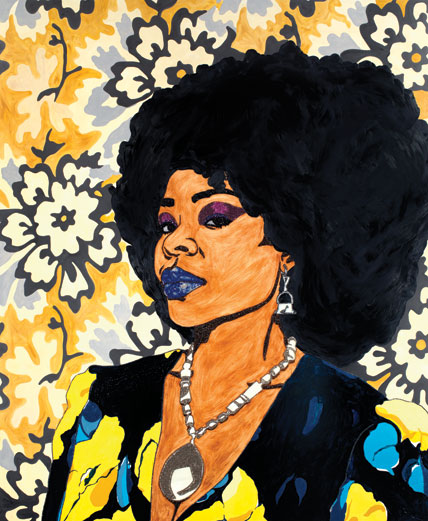 Mickalene Thomas: Origin of the Universe
September 28, 2012–January 20, 2013
Brooklyn artist Mickalene Thomas is best known for her elaborate, collage-inspired paintings, embellished with rhinestones, enamel, and colorful acrylics. Her depictions of African American women explore a spectrum of black female beauty and sexual identity while constructing images of femininity and power. Origin of the Universe, Thomas's first solo museum exhibition, highlights recent bodies of work that examine interior and exterior environments in relation to the female figure. Their settings are often inspired by her 1970s childhood.
Thomas's production is informed by the classical genres of portraiture, landscape, still life, and the female nude. She combines careful borrowings from historical painting with contemporary popular culture, taking cues from such artists as Romare Bearden, Gustave Courbet, David Hockney, Édouard Manet, and Henri Matisse. In combining traditional genres with African American female subjects, Thomas makes a case for opening up the conventional parameters of art history and culture. Among the pieces on view are contemporary riffs on Courbet's Origin of the World and Manet's Le Dejeuner sur l'herbe. Seventy-five of the ninety featured works were added for the Brooklyn presentation. An entrance-gallery mural, a film about Thomas's mother, and installations of furnished domestic interiors were created specifically for this show.
Mickalene Thomas: Origin of the Universe was organized by the Santa Monica Museum of Art and Lisa Melandri, former Deputy Director for Exhibitions and Programs. The Brooklyn presentation is organized by Eugenie Tsai, John and Barbara Vogelstein Curator of Contemporary Art, Brooklyn Museum.