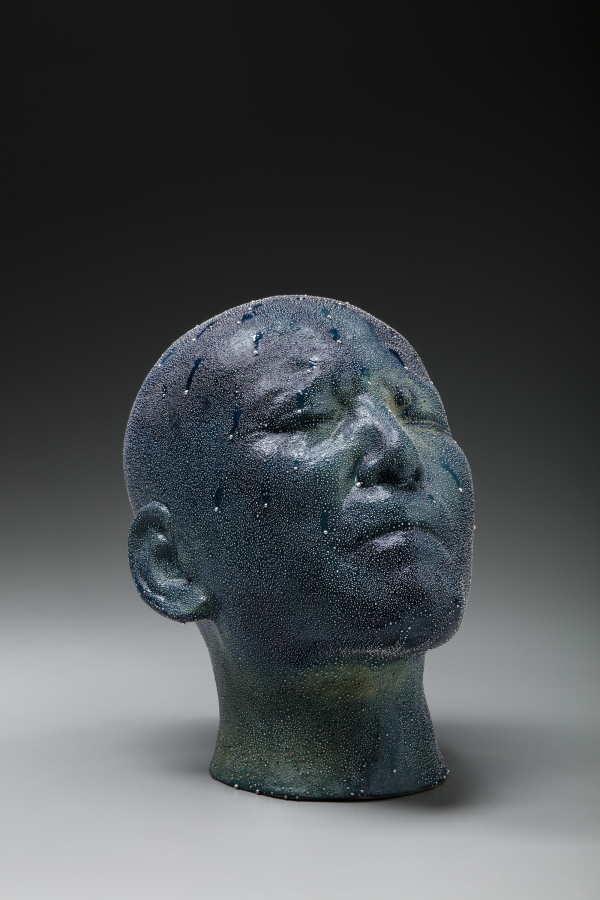 Museum Spotlight: Porcelains in the Mist: The Kondō Family of Ceramicists
December 8, 2023–December 8, 2024
Arts of Japan, 2nd Floor
This porcelain head, a self-portrait, is glazed in shades of blue and covered with metallic droplets called "silver mist," or gintekisai. The term, like the secret technique that produces the effect, was invented by ceramicist Kondō Takahiro (born 1958). Based in Kyoto, Japan, he carries on a legacy of innovation in ceramic art. For the last one hundred years, Kondō Takahiro and his father Kondō Hiroshi (1936–2012), grandfather Kondō Yūzō (1902–1985), and uncle Kondō Yutaka (1932–1983) have broken free of centuries-old traditions to pursue original, individual expression.
Porcelains in the Mist brings together sixty-one pieces that celebrate the Kondō family's innovations and talents. Their early creations range from freehand-painted vases to pure-white jars. Most of the works on view are by Takahiro, who often pairs his "mist," which he describes as "water born from fire," with dramatic shapes and textures. Several of these powerful porcelains reflect his personal responses to monumental events, particularly the 2011 earthquake and tsunami that devastated northeastern Japan.
Museum Spotlights are intimate installations of noteworthy collection works, recent acquisitions, and loans, presented to encourage deeper conversations about art, history, and justice.
Porcelains in the Mist: The Kondō Family of Ceramicists is organized by the Brooklyn Museum based on the exhibition Transcendent Clay/Kondo: A Century of Japanese Ceramic Art, originally presented by the Lowe Art Museum, University of Miami, and guest curated by Joe Earle. The Brooklyn Museum's presentation is organized by Joan Cummins, Lisa and Bernard Selz Senior Curator, Asian Art.
We are grateful to Carol and Jeffrey Horvitz, whose generosity and enthusiasm made this exhibition possible.