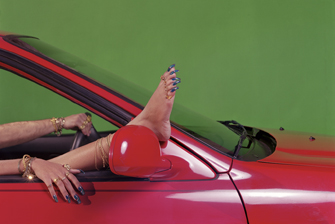 Open House: Working in Brooklyn
April 17–August 15, 2004
This exhibition is the largest and most comprehensive survey to date of artists working in Brooklyn, with more than 300 works in all media by 200 Brooklyn artists. All of the works on view have been created since 2000, and most are on show for the first time. The exhibition will place special emphasis on the multigenerational, multiethnic, and multinational artist communities that have revitalized Brooklyn neighborhoods such as Williamsburg, DUMBO, Red Hook, Greenpoint, Bedford-Stuyvesant, and Sunset Park.
Artists began moving to Brooklyn in large numbers in the 1970s, attracted by the availability of affordable studio space. Galleries followed, opening first in Williamsburg in the 1980s and eventually spreading to other neighborhoods. Today, an estimated 5,000 artists and 50 galleries have transformed Brooklyn into one of the most diverse and vibrant art scenes in the United States and a mecca for some of the most talented artists in the world.
Artists selected for the exhibition include long-established Brooklyn-based artists such as Vito Acconci, Louise Bourgeois, Rico Gatson, Martha Rosler, and Danny Simmons; widely admired midcareer artists, such as Terry Adkins, Steven Charles, Wenda Gu, Glenn Ligon, and Roxy Paine; and such exciting newcomers as Haluk Akakçe, Rina Banerjee, David Baskin, Amy Cutler, Linda Ganjian, Luis Gispert, Jonathan Grassi, and Emily Jacir.
Expanding on its landmark series of exhibitions showcasing art from Brooklyn, also titled Working in Brooklyn, the exhibition Open House: Working in Brooklyn is curated by Charlotta Kotik, Chair of the Museum's Department of Contemporary Art, who has coordinated every one of the Museum's Working in Brooklyn projects, and Tumelo Mosaka, the Department's new Assistant Curator. Together they have considered the work of well over 1,000 artists and visited nearly as many studios, galleries, and private collections.
Open House: Working in Brooklyn is made possible through the generosity of the Horace W. Goldsmith Foundation and the Brooklyn Museum's Richard and Barbara Debs Exhibition Fund. Additional support has been contributed by the Peter Norton Family Foundation, The Lily Auchincloss Foundation, the FUNd, the Museum's Contemporary Art Council, Dr. Alvin Friedman-Kein, The Liman Foundation, and Jane and David Walentas. The Elaine Dannheisser Foundation has generously supported the presentation of the work of emerging artists in this exhibition. Promotional consideration has been provided by Amtrak.