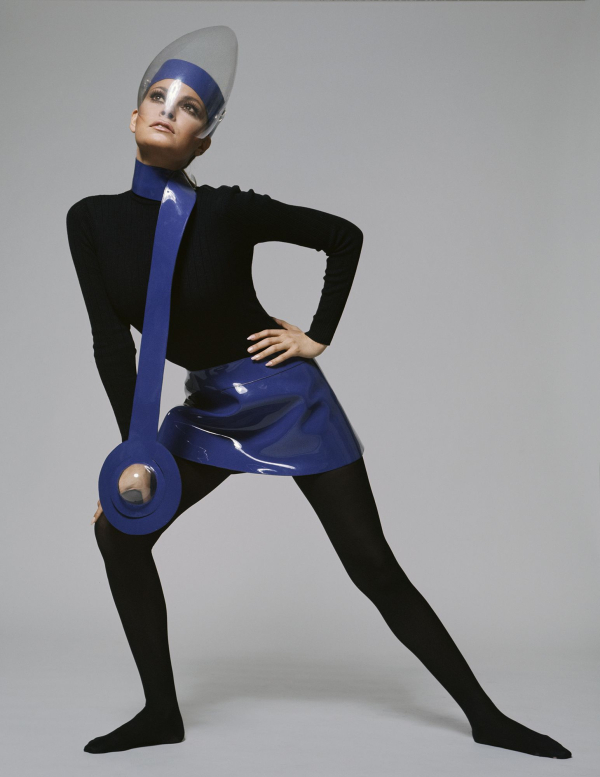 Pierre Cardin: Future Fashion
July 20, 2019–January 5, 2020
Pierre Cardin: Future Fashion is the first New York retrospective in forty years to focus on the legendary couturier. Drawn primarily from Pierre Cardin's archive, the exhibition traverses the designer's decades-long career at the forefront of fashion invention. Known today for his bold, futuristic looks of the 1960s, 1970s, and 1980s, Cardin extended his design concepts from fashion to furniture, industrial design, and beyond.
The exhibition presents over 170 objects drawn from his atelier and archive, including historical and contemporary haute couture, prêt-à-porter, trademark accessories, "couture" furniture, lighting, fashion sketches, personal photographs, and excerpts from television, documentaries, and feature films. The objects are displayed in an immersive environment inspired by Cardin's unique atelier designs, showrooms, and homes.
Highlights of Pierre Cardin: Future Fashion include rare designs in luxury fabrics from the 1950s; a large grouping from the landmark 1964 "Cosmocorps" collection, which sought to streamline menswear by eliminating excessive detailing; creations that incorporate vinyls, plastics, and the self-named Cardine synthetic fabric; signature unisex ensembles featuring full knit bodysuits with layered skirts, vests, bibs, and jewelry; iconic broad-shouldered jackets from the 1980s based on Japanese origami, Chinese architecture, and American football uniforms; "illuminated" jumpsuits and dresses; recent couture eveningwear; and an extensive overview of Cardin's recently designed couture menswear.
Pierre Cardin: Future Fashion is curated and designed by Matthew Yokobosky, Senior Curator of Fashion and Material Culture, Brooklyn Museum.