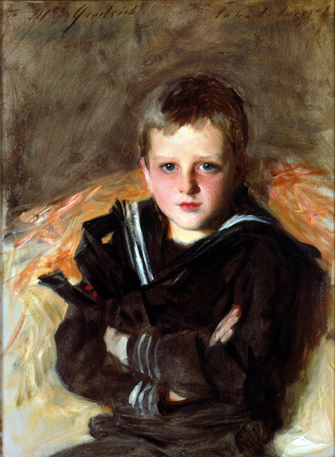 Great Expectations: John Singer Sargent Painting Children
October 8, 2004–January 16, 2005
Great Expectations: John Singer Sargent Painting Children investigates how Sargent represented children in portraits and genre paintings. To underscore the centrality of childhood in nineteenth-century Western culture, the exhibition borrows its title from Charles Dickens's 1861 novel, Great Expectations, which traces a boy's passage from child to adult. The purpose of the exhibition, however, is to address how Sargent's paintings satisfied or contradicted expectations about childhood that existed at the end of the nineteenth century. This process interweaves three fundamentally separate histories: those of childhood (in sociocultural terms), the iconography of childhood in Western art, and Sargent's own career.
Although children may not immediately come to mind when thinking about Sargent, they appear frequently in several types of paintings he did throughout his career—in commissioned and non-commissioned portraits and in genre (thematic) subjects. A survey of a selection of these works presents the idea that Sargent deliberately exhibited paintings of children at crucial points in his career to shape critical and public opinion of his art; that his art yielded the uncalculated result of elevating the theme of childhood above that of sentimentality; and that his alteration of the traditional iconography of childhood coincided with new attitudes about children that were forming in Europe and North America. Sargent's thoughts about these matters are not known, and any conclusions we may draw must rest primarily on looking at Sargent's art in relation to the cultural climate in which it was made and the reception it received.
Great Expectations: John Singer Sargent Painting Children is made possible in part by the generosity of Jan and Warren Adelson. Additional support is provided by Ron and Barbara Cordover, the Brooklyn Museum's Richard and Barbara Debs Exhibition Fund, the Gilder Foundation, Michael Humphreys, Ed and Deborah Shein, the Lunder Foundation and the Museum's American Art Council. The Federal Council on the Arts and the Humanities has granted an indemnity for this project. Where New York magazine is media sponsor.