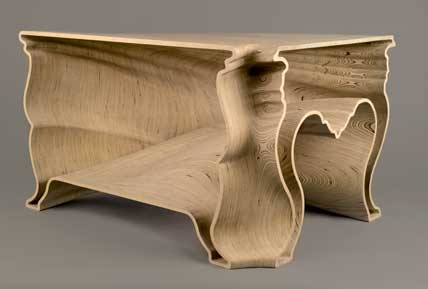 Thinking Big: Recent Design Acquisitions
March 4–May 29, 2011
Thinking Big is a selection of forty-five examples of extraordinary twentieth- and twenty-first-century design from among the 645 such objects collected by the Brooklyn Museum since the year 2000. Although most of the objects in the installation are indeed large, the title also reflects the belief that in order to keep the Museum's legendary collection of decorative arts on the cutting edge it is essential to think big in a metaphorical sense as well—to foresee what it is that will define the design of an era and pursue it.
Oftentimes the objects that come into the collection are considered important for their incorporation of exciting new materials, such as plastics, fiberglass, and plywood in the twentieth century. At other times they are appreciated for their innovative use of new technologies, such as computers and lasers.
Of course, new materials and technologies only reach their potential when great designers know what to do with them. A number of the works on view here were designed by winners of awards for lifetime achievement or for innovative work by young designers that are presented annually by the Museum in conjunction with the international antiques show Modernism.
Important exhibitions have also helped the Museum define its collecting direction, particularly its commitment to building a world-renowned collection of design from the 1920s and 1930s and to pursuing design of the mid-twentieth century, one of the strengths of this installation.
Since the beginning in 1902, the purpose of the collection has been to teach and inform—both about what makes an object a great design and about what that object means in society. This forward-looking idea has been the basis of one of the country's great design collections. Today, in order to continue to present the best and most exciting works to the public, the Brooklyn Museum is committed to expanding its collection of design with the same foresight and vigor.
Thinking Big: Recent Design Acquisitions is organized by Barry R. Harwood, Curator of Decorative Arts, Brooklyn Museum.
Generous support for this exhibition came from the Harold S. Keller Fund.