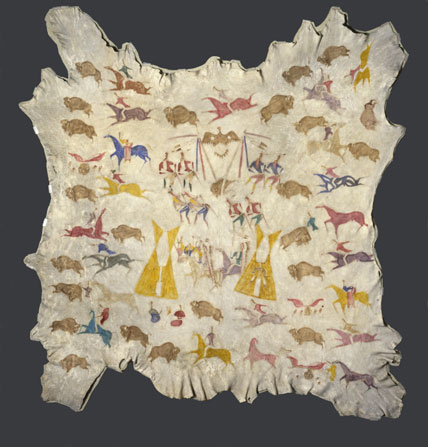 Tipi: Heritage of the Great Plains
February 18–May 15, 2011
Tipi: Heritage of the Great Plains focuses on the tipi as the center of Plains culture and social, religious, and creative traditions from the early nineteenth century to the present. The exhibition examines the tipi as an architectural form, an expression of Plains artistic and cultural identity, and an interior space for domestic and ritual use. Tipi features more than 160 objects from the Brooklyn Museum's collection of Plains material, as well as selected works from other museums; objects by contemporary Plains artists; and three full-size tipis, two with furnished interiors.
The exhibition includes objects from a large number of tribes from the Northern, Central, and Southern Plains. Organized thematically, it explores the role of women, who were the owners of the tipi and makers of the tipi itself as well the furnishings, clothing, and accessories kept within it; the traditional role of men as warriors, whose military exploits are depicted on tipi covers and liners; and the tipi as the center of childhood and family life.
In addition to historical and contemporary objects, the exhibition includes photographs of contemporary Plains family and community life and images of contemporary Native American architecture inspired by the tipi form.
The exhibition has been developed by a collaborative team of Native and non-Native curators, scholars, and artists. Nancy B. Rosoff, Andrew W. Mellon Curator, Arts of the Americas, and Susan Kennedy Zeller, Ph.D., Associate Curator, Native American Art, led the team. Tipi is accompanied by a catalogue published by the Brooklyn Museum in association with the University of Washington Press.
Tipi: Heritage of the Great Plains is organized by the Brooklyn Museum.