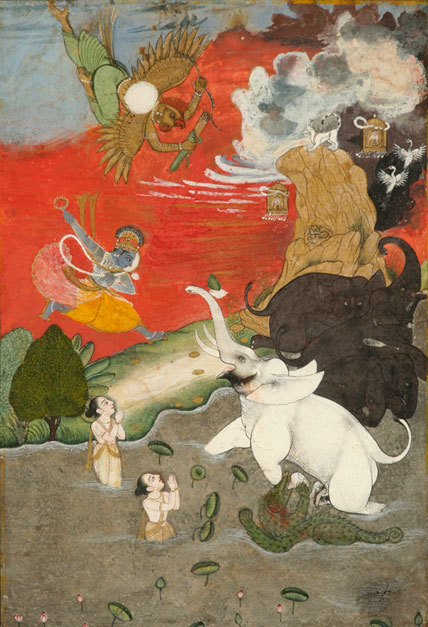 Vishnu: Hinduism's Blue-Skinned Savior
June 24–October 2, 2011
Vishnu: Hinduism's Blue-Skinned Savior is the first major museum exhibition to focus on Vishnu, one of Hinduism's three major deities. Presenting approximately 170 paintings, sculptures, and ritual objects that were made in India between the fourth and twentieth centuries, this exhibition serves as a brief survey of Hindu art styles as well as an examination of the Vaishnava (Vishnu-worshipping) tradition.
Known as Hinduism's gentle god, Vishnu is easily recognized in paintings by his blue skin. While he is an interesting figure in his primary form, the complexity of Vishnu's character becomes clear when he assumes new forms, known as avatars, in order to save the earth from various dangers. Vishnu's ten avatars reveal the multiplicity of ways that one can envision and interact with the divine.
The first section of the exhibition introduces Vishnu in his primary form, with subsections dedicated to his attributes, his consorts, and his legends. The second section examines his avatars, as a group and then individually. The avatars that are more frequently celebrated in art are fully represented in the exhibition, with substantial subsections dedicated to Rama and Krishna. The third section shows some of the ways in which Vishnu has been worshipped, with images of temples and ritual objects.
Vishnu: Hinduism's Blue-Skinned Savior has been organized by the Frist Center for the Visual Arts, Nashville, Tennessee, and curated by Joan Cummins, Lisa and Bernard Selz Curator of Asian Art, Brooklyn Museum.
Generous support is provided by the Martha A. and Robert S. Rubin Exhibition Fund and the Estate of Bertram H. Schaffner.
Additional funding has been provided by the E. Rhodes and Leona B. Carpenter Foundation; The Selz Foundation, Inc.; Katharine and Rohit Desai; Gary Smith and Teresa Kirby; Cynthia Hazen Polsky and Leon Polsky; Ruth and Richard Dickes; the Alvin E. Friedman-Kien Exhibition Fund; the Asian Art Council; an anonymous donor; and other generous supporters.
Media sponsor