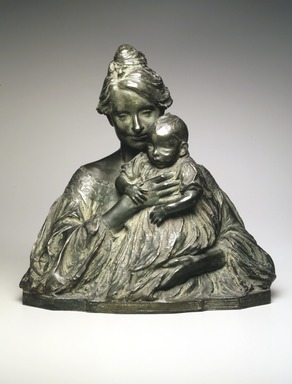 | | |
| --- | --- |
| Accession # | 13.1062 |
| Artist | Bessie Potter Vonnoh |
| Title | Modern Madonna |
| Date | 1904 |
| Medium | Bronze |
| Dimensions | 15 1/8 x 15 x 8 1/2 in., 19 lb. (38.4 x 38.1 x 21.6 cm, 8.62kg) |
| Marks | Foundry mark inscribed on proper right side of base at back: "Roman Bronze Works N.Y." |
| Signed | Inscribed along proper left side of base, towards the back: "Bessie Potter Vonnoh. 1904 Copyright No 111" |
| Credit Line | Gift of the artist |
| Location | Visible Storage: Case 32, Shelf J (Sculpture) |
| Description | Statuette of half-length figure of a woman holding a baby, forms a pyramidal composition; mother holds baby so that it faces frontally and has its infant's head pressed against her proper left cheek; she wears dress with dropped collar and full drapery folds, her hair is gathered into loose bun at top of her head; infant grabs its mother's hand and wears a long dress. Condition: Good, some greenish corrosion in crevices of drapery. |
Curatorial Remarks:
Like her contemporary Mary Cassatt, Bessie Potter Vonnoh favored young children and their mothers as subjects. In this bronze, a mother gazes fondly at the infant she holds close to her heart. Although the work is secular and contemporary in conception, both the theme and Vonnoh's title refer to one of the most powerful traditional religious images. Vonnoh's appealing groups of women and infants, small in scale and delicately modeled, found great favor with the public, particularly after an exhibition of her work at the Brooklyn Museum in 1913 brought her wider public recognition.