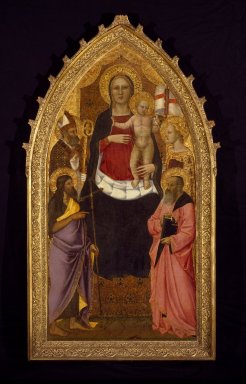 Madonna and Child Enthroned with Saints Zenobius, John the Baptist, Reparata and John the Evangelist
Nardo di Cione, along with his brother Orcagna, dominated Florentine painting in the second half of the fourteenth century. After the Black Death struck Florence in 1348—taking the lives of two-thirds of the population—artists reacted against the humanism championed earlier in the century by Giotto (1267–1337). In this pivotal moment, Nardo returned to the use of gold grounds, the traditional manner of representing the changeless luminosity of the eternal, while nonetheless continuing to explore Giotto's fascination with the character of the visible world.

Here, Nardo adopts the more "gothicizing" style that came to the fore after the Black Death. For example, a strongly hierarchical arrangement of figures—with the enthroned Madonna placed higher in the picture, and shown larger than the surrounding saints—indicates Mary's exalted devotional position. However, the figures also display the sensitivity of expression and three-dimensional tactility pioneered by Giotto.

Nardo likely painted this altarpiece for the Duomo in Florence, which housed the relics of Saint Zenobius (shown at the upper left) and whose original patron saint was Reparata (shown at the upper right) This work is considered by scholars to be the most important fourteenth-century altarpiece in America.

Medium:

Tempera and tooled gold on panel

Place Made: Italy
Dates:

mid 14th century

Dimensions:

77 1/2 x 39 1/2 in. (196.9 x 100.3 cm)

(show scale)
Collections:European Art
Museum Location: This item is not on view
Accession Number:

1995.2

Credit Line:

Healy Purchase Fund B gift of Mrs. S. S. Auchincloss, James A. H. Bell, Mrs. Tunis G. Bergen, Mrs. Arthur Blake, Leonard Block, Mary A. Brackett, Mrs. Charles Bull in memory of Noel Joseph Becar, Sidney Curtis, Mrs. Watson B. Dickerman, Forrest Dryden, the Estate of George M. Dunaif, Marion Gans, Francis Gottsberger in memory of his wife, Eliza, bequest of Anne Halstead, Mrs. William H. Haupt, A. Augustus Healy, William H. Herriman, Mrs. Alexander Howe, Julian Clarence Levi, the Martin Estate, bequest of Emilie Henriette Mayr in memory of her brother and sister-in-law, Mr. and Mrs. George Mayr, Mrs. Richard Norsam Meade in memory of Margery Moyca Newell, Bernard Palitz, Richman Proskauer, Charles A Schieren, the Estate of Isabel Shults, Mr. and Mrs. Daniel L. Silberberg, Austin Wolf, Mrs. Hamilton Wolf, and Mrs. Henry Wolf, by exchange

Rights Statement: No known copyright restrictions
Caption: Nardo di Cione (Italian, Florentine, active 1343-1356/1366). Madonna and Child Enthroned with Saints Zenobius, John the Baptist, Reparata and John the Evangelist, mid 14th century. Tempera and tooled gold on panel, 77 1/2 x 39 1/2 in. (196.9 x 100.3 cm). Brooklyn Museum, Healy Purchase Fund B gift of Mrs. S. S. Auchincloss, James A. H. Bell, Mrs. Tunis G. Bergen, Mrs. Arthur Blake, Leonard Block, Mary A. Brackett, Mrs. Charles Bull in memory of Noel Joseph Becar, Sidney Curtis, Mrs. Watson B. Dickerman, Forrest Dryden, the Estate of George M. Dunaif, Marion Gans, Francis Gottsberger in memory of his wife, Eliza, bequest of Anne Halstead, Mrs. William H. Haupt, A. Augustus Healy, William H. Herriman, Mrs. Alexander Howe, Julian Clarence Levi, the Martin Estate, bequest of Emilie Henriette Mayr in memory of her brother and sister-in-law, Mr. and Mrs. George Mayr, Mrs. Richard Norsam Meade in memory of Margery Moyca Newell, Bernard Palitz, Richman Proskauer, Charles A Schieren, the Estate of Isabel Shults, Mr. and Mrs. Daniel L. Silberberg, Austin Wolf, Mrs. Hamilton Wolf, and Mrs. Henry Wolf, by exchange, 1995.2
Image:
Record Completeness: Best (91%)